Jürgen Klopp
Klopp rules out emulating Wenger & Ferguson with 20-year Liverpool spell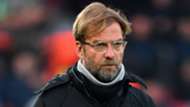 Jurgen Klopp says there is "no chance" of him spending another 20 years at Liverpool and emulating the iconic spells of Arsene Wenger and Sir Alex Ferguson at Arsenal and Manchester United.
The German coach inherited the reins at Anfield from Brendan Rodgers in October 2015.
He has helped to raise expectations on the red half of Merseyside during his two years to date, with it still possible that a six-year wait for major silverware will be ended in 2018.
Klopp is desperate to bring the good times back to Liverpool, but has made it clear that he will not be overseeing a dynasty spanning more than two decades.
"No way, no chance," he told BBC Sport.
"I respect Arsene and Sir Alex a lot for what they did for football, but the game has changed a lot.
"I think the first 15 years for these guys were like a holiday compared to what they had in the last 15 years of their job.
"The social media thing, I don't read it, but it has influence from all sides and things that I don't understand. I'm 50 and young in all things of life, but I'm too old for this."
Klopp added: "In 20 years' time, then I am 70 and I can guarantee that I won't be here.
"We shouldn't draw this dark picture for all Liverpool fans that they have to deal with me for the next 20 years, let's stay positive."
Klopp is currently contracted to Liverpool until the summer of 2022, having committed to a six-year deal in July 2016.