Exhausting players? Tactically suspect? Klopp must prove he is world class like Conte
Last Updated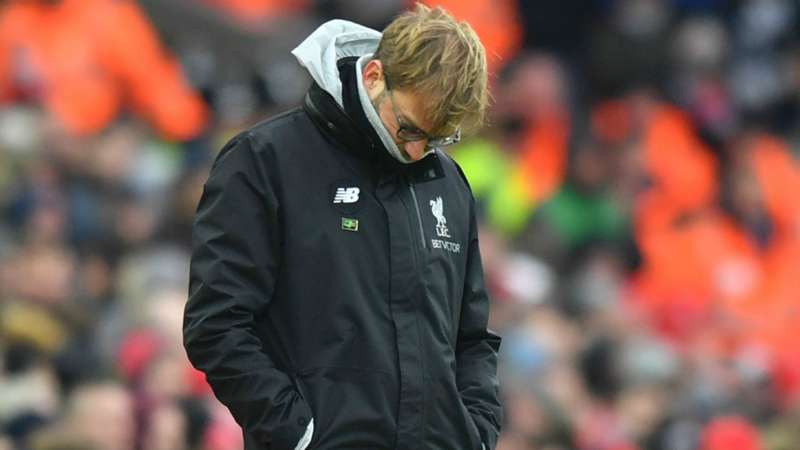 Getty
---
COMMENT
---
"Liverpool look like they've run out of legs and energy," Jamie Carragher lamented after last week's League Cup loss to Southampton. "Is that down to the intensity of training? There's no zip in the team - and you have to look at the manager."
For the first time since receiving a rapturous welcome on Merseyside just under 16 months ago, Jurgen Klopp is under scrutiny. Doubts are being cast, awkward questions asked.
Man Utd make €80m Griezmann top target
When the German took charge of Liverpool in October 2015, the club's supporters were enthused by Klopp's mission statement: "My teams must play at full throttle and take it to the limit every single game."
Now the Anfield faithful are wondering if such intensity is sustainable, and more importantly, whether it can be successful over an entire Premier League season. The early signs are not encouraging.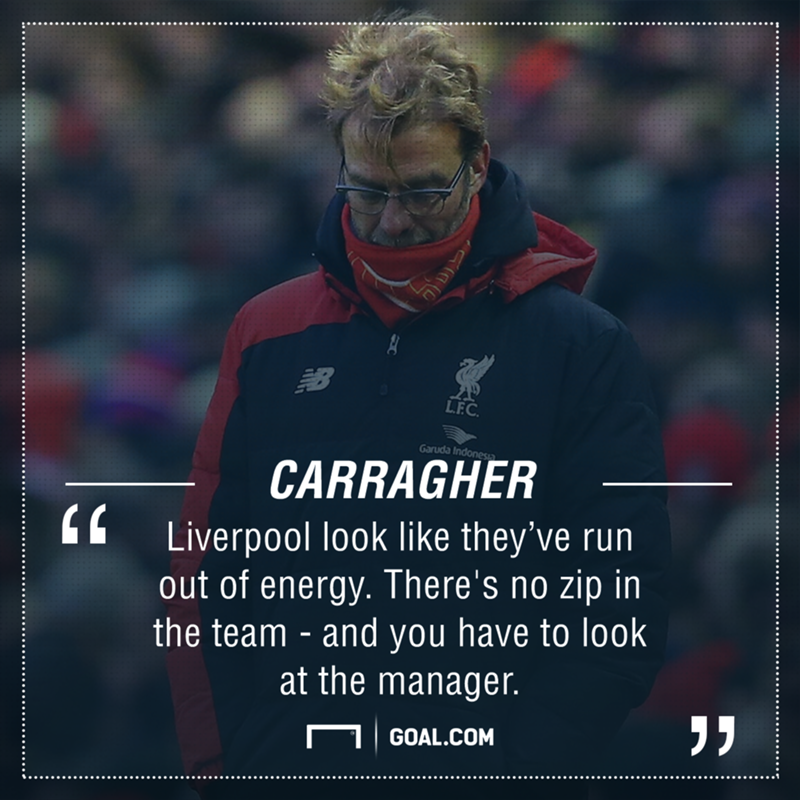 A year on from being rocked by an injury crisis that rendered 11 players unavailable, Liverpool are suffering from another serious bout of the January blues. The previously rampant Reds have ground to a halt during the first congested period of their campaign, winning just one of their eight fixtures since the turn of the year.
Controversial fitness coach and long-time Klopp critic Raymond Verheijen has revelled in Liverpool's winter woe, once again suggesting that their manager's allegedly outdated and overly intensive training methods are to blame. However, it is also worth remembering that this is the same man who said before the start of the current campaign that Antonio Conte also "destroys players" - yet, it is Conte's Chelsea who will arrive at Anfield on Tuesday as the Premier League leaders. Indeed, it seems that the issues with Klopp's struggling side are not just physical but also mental and tactical.
Klopp may pick Mane against Chelsea
Tired bodies equals tired minds and lapses of concentration lead to losses of confidence. Klopp's brand of football is taking its toll on a squad that is simply not good enough to win the league. Liverpool overachieved until Christmas. There is no other way of evaluating a side founded on a defence in which converted midfielder James Milner is by far the most impressive performer. It is, thus, no wonder that Liverpool rely so heavily on a small group of scintillating attacking talents, and why the losses of Philippe Coutinho to injury and Sadio Mane to the Africa Cup of Nations have proven so detrimental (hence the desperation to have the latter available to face Chelsea).
Quite simply, the Reds did not have ready-made replacements. Klopp was complaining about the festive fixture list for months in advance yet when it came to the crunch, he made just two changes to the side that had battled past Manchester City on New Year's Eve for the trip to Sunderland less than 48 hours later. Why? Because there wasn't enough faith in Liverpool's reserves to get the better of one of the worst teams in the league. In the end, the Reds' understandably weary first-teamers were held to a draw.
However, while fatigue is an understandable consequence of having to rely on a small pool of players, Klopp's tactical inflexibility is troubling. Liverpool have looked worryingly short on ideas over the past four weeks. The aforementioned absences of Coutinho and Mane have been key but, as alluded to by Carragher, it has been difficult to determine Klopp's 'Plan B' – the fear now is that there isn't one.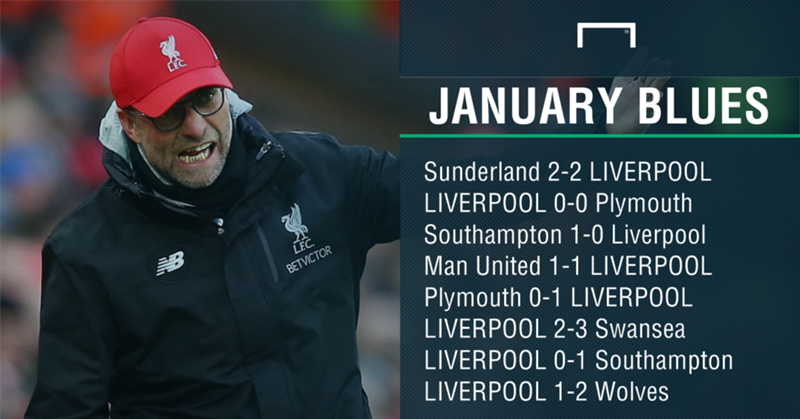 As far back as November, United legend Johnny Giles expressed his concerns about the former BVB boss' tactics. "With Klopp, it's all about the front foot, all about forward momentum," the two-time league winner wrote in the Irish Independent. "It's go, go, go all the time with Klopp and while it produces some breathtaking football and can completely overwhelm other teams, it carries at its heart an obvious weakness: There is no alternative. It's an all-or-nothing approach."
There is now the distinct possibility that Liverpool will end this season having given their all but with nothing to show for it. Tuesday's game is, therefore, pivotal to the hosts' hopes of a top-four finish and facing Chelsea may actually work in the home side's favour, with Conte already having confirmed that his side will play to win. That should suit Klopp's Liverpool, who are, like Klopp's BVB, brilliant on the break. The key challenge, though, will be showing that they can also win playing differently.
Conte: Liverpool match not decisive
It is worth remembering that Conte was once considered to be too attached to his footballing philosophy, with many feeling that former club Juve repeatedly failed in Europe because their coach didn't have enough versatility tactically. Conte has evolved, as evidenced by the way in which he masterminded victories over both Belgium and Spain at Euro 2016 and then altered the entire narrative of the current Premier League title race by switching to a 3-4-3 after back-to-back losses to Liverpool and Arsenal.
Klopp, on the other hand, has a number of questions that he needs to answer, especially given how badly his brilliant spell at Dortmund ended in 2014-15 - when BVB finished seventh after flirting with relegation for most of the season and, like Liverpool, were also plagued by injuries and criticism of being tactically one-dimensional.
When Conte and Klopp last clashed in September, everyone was looking at the Blues boss. It was Conte who was under scrutiny. Things have changed. Conte adapted. Klopp must follow suit.