International Champions Cup
Klopp and Liverpool have plenty of positives despite Dortmund defeat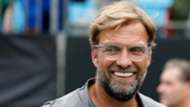 Jurgen Klopp left Bank of America Stadium with smiles, even if Liverpool had just suffered their first defeat of a hectic, intense pre-season campaign.
Christian Pulisic, the darling of the USA, had condemned the Reds to it. Borussia Dortmund's teenage superstar played just 45 minutes in Charlotte, but his impact was huge.
First, he won and converted a penalty to level this International Champions Cup tie, then he finished off a sweeping counter-attack to give Dortmund the lead. In the final moments it was his shot, parried tamely by Loris Karius, which led to his side's third goal, scored by Jacob Bruun Larsen.
The scoreline perhaps flattered the Germans, but as Klopp said afterwards, "Football is a results game, and you always get a fair result."
Pulisic can do no wrong in this country, and he was winning fans even after the final whistle had blown. As he conducted his post-game interviews on the pitch, a young fan appeared, pleading for an autograph. Security got involved in ridiculously heavy-handed fashion, dragging the youngster away.
Pulisic, clearly angered, took it upon himself to intervene, making sure the supporter was safe and that he got the signature he wanted. Fair play to a very talented and very impressive young footballer. No wonder Klopp likes him.
As for Liverpool, they were left to reflect on a difficult afternoon in difficult conditions. Klopp had chosen to train on the morning of the game, using the facilities at the University of North Carolina to put on what he described as "a more intense session than normal for a matchday" – it showed on the field. Liverpool had endeavour, but their play lacked sharpness and cohesion for the most part. Dortmund, in fairness, were no better until Pulisic got stuck in during the last half hour.
"You could see after five minutes a few players thought, 'wow, where are we here?!'" Klopp said afterwards. "It is quite difficult with these mixed line-ups to get this organisation. Dortmund had the same problem."
The Liverpool manager left with concerns over the fitness of Joel Matip, who pulled a quad muscle playing a pass out of defence after just 17 minutes. Matip left the field immediately and has, according to Klopp, "a little tear" in his left thigh. It is not, he stressed, the same injury which ended the Cameroonian's season in May, but the severity should be known in the next 48 hours.
Otherwise, Klopp may wish to reflect on a mixed bag of performances from the 21 players used here. Karius, unfortunately, did little to suggest he is in a better place now than he was after the Champions League final in May. A wayward clearance in the first half could and should have been punished by Maximilian Philipp, while his effort for Dortmund's third goal spoke of a man bereft of confidence in himself. Alisson Becker's arrival cannot come soon enough; for Liverpool and, perhaps, for Karius too.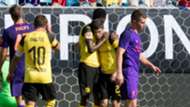 Elsewhere Klopp was happy, again, to praise the form of Daniel Sturridge, who was a sharp second-half presence in attack. "Who doubts Daniel when he is fit?" he asked the assembled media. "I don't!" We know, however, the caveat which accompanies that particular statement.
Naby Keita and Fabinho, the two new-boys in midfield, were given gentle encouragement. Fabinho will need "a few weeks" to get used to his role as the "organiser" in midfield, while Keita "can do much better."
Klopp, clearly, is not ready to dish out compliments too readily, even to his £50 million men.
Liverpool will remain in Charlotte for another day, holding a behind-closed-doors training session on Monday before flying to New Jersey in the early hours of Tuesday.
They can, at least, reflect on a positive experience in Charlotte. More than 55,000 fans turned out to see them here, and a free fan event hosted by the club on Saturday night was deemed a huge success too. 
And reinforcements are coming. New signing Xherdan Shaqiri will join the squad on Tuesday, while both Mo Salah and Sadio Mane could play some part in the next two games – intriguing clashes with Manchester City and Manchester United.
Enough to whet the appetite of the local fans, for sure. The International Champions Cup may not be the world's premier competition, but Liverpool keep on proving they're one of the world's biggest draws - wherever they go. 
No wonder Klopp could afford a smile in defeat.