Kerala Blasters
From team manager to CEO - Varun Tripuraneni wants to reinvigorate Kerala Blasters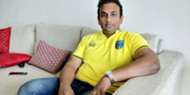 Varun Tripuraneni was the team manager of Kerala Blasters in the first season of the Indian Super League in 2014. He then joined Chennaiyin FC as the club's COO (Chief Operating Officer) a year later and had stints with the Chennai's district FA before returning to Kerala. And when he did, it was as the club's CEO.
"It has been a great experience for me personally. ISL has been a great opportunity for me, it has given opportunities for a lot of aspiring people in sports management," the man at the helm of Kerala Blasters revelled as he spoke exclusively to Goal. 
"The journey started in 2014 and it got better and better. I started as the team manager of Kerala Blasters in season one and since then I have had roles with Chennaiyin FC and now being back with Blasters feels great. The team has reached two finals in four years. I have been part of the inaugural season and I just hope we have a much better season this year and we go on and win the title."
His first season as the CEO of the club did not produce desirable results on the field but the former team manager had given fans plenty to be excited about at the start of the season. To start off, Kerala Blasters appointed former Manchester United coach Rene Meulensteen as the head coach. And with him came two former Manchester United players in Wes Brown and Dimitar Berbatov. Needless to say, the expectation among fans had skyrocketed. With Thangboi Singto as the assistant coach, Blasters made sure they got the players they wanted at the Indian player draft.
"We had the wishlist, Rene was appointed manager then and we had several discussions with Rene on the kind of players he would like to have. I would say at the end of the draft, we were quite happy with the set of players that we got. The draft kind of evens out for most teams. We were pretty happy at the end of the draft. 
"Looking at the foreign signings, Rene was clear that we need to have a mix of youth and experience. To give credit to Rene, there were a couple of exciting signings that he made, for example, Courage Pekuson and Keziron Kizito - both young players. Nemanja Lakic-Pesic was there as well. 
"We needed to add a bit of experience as well and that's the reason why Iain Hume was our first signing of the season. Hume is a fan favourite in Kerala and a popular player in the league. We needed someone with experience in defence and that was where Wes Brown came in. Berbatov was the other signing we made, another experienced player. There were high expectations from the fans once we signed both the players.
"I think Wes had a great season. A lot of fans did not expect him to last every game. He was surprised when he won the fittest player of the match award in one of the games. Wes was great, one and off the field. He was a great influence on some of the youngsters. I think that's something which is very important to have. There is really nothing to complain about when it comes to Wes Brown.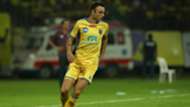 "With Berbatov again, there were a lot of expectations. Many thought there will be a lot of goals with Berbatov and Hume playing together. Berbatov did play in a midfield role, that surprised most. It was unfortunate, I can say that we probably didn't get the best out of Berbatov. But again, these things do happen in football. We were fairly happy with the signings we made, overall," said Varun.
Although fans were excited about the idea of big names playing for Blasters, the poor start to the season meant the recruitment of aged players past their peak drew criticism. "Going forward, keeping in mind the foreign player rule that might change over a period of time, it is important to look ahead and have not just a one-year plan but a long-term plan when it comes to player recruitment. 
"I understand they have been unknown names (who have succeeded) in ISL, we will look at all possible options. We might look at a much younger bunch of foreign players.
"David James has certain principles when it comes to foreign player recruitment. We will look at whichever player that fits into those principles."
The biggest positive of Blasters' 2017-18 season is the performance of the reserve and age-grouped teams in their respective leagues. The reserve side topped their group in the 2nd division I-League and the U-18 side have progressed to the semi-final of the U-18 Youth League. 
"We didn't have too much time to put together a team. That's where I would like to give a lot of credit to Thangboi Singto. He is the technical director for youth development and he is also the first team assistant coach. It has been very tough for him considering the timelines where he had to shift his roles. Whenever he had the breaks, he was assisting the youth teams."
Addressing concerns of supporters who complained about having too many non-Keralites in the squad, Varun said,"There have been a lot of comments about local players in the squads but if you actually look at our roster for 15s, 18s and reserve team, out of about 90 players, more than 60 are from Kerala. I don't think any of the ISL franchise has that kind of local presence."
And just like the average ardent supporters, CEO Varun Tripuraneni wishes to see these talented youngsters make it to the first team. 
"David has always endorsed the fact that youngsters should be given opportunities. We saw it with Deependra Negi and Sahal Abdul Samad last year.
"Going forward, not all of them might get chances in the first team in the immediate future. We might look at loaning some of the players to other teams in the ISL or the I-League. We will definitely have a good young squad next year. I hope that players who have done well in the reserve and youth team make it to the first team squad."
One of the biggest fanbases in the country is waiting for their team to turn up next season and pick up their first trophy. Everybody at the club knows about the pressure and the added responsibility that it brings. A large community of supporters is bound to throw social media hate at players and coaches when things don't go well but Varun believes it is nothing too difficult to handle. 
"There is definitely no downside to having too many fans. It's a great place to be in. The pressure is always there, they expect results on the pitch. 
"The Bengaluru game was one where we did not have a chance to make it to the playoffs and still when we entered Kanteerava, we actually felt like we were at home. 
"The players and the staff are professionals, they know how to handle negative social media comments. As for me, I don't understand Malayalam so some comments, they just pass."
As always, it is not the social media comments that matter when you try to run a football club. It is the people who turn up at the stadium. CEO Varun Tripuraneni's trust in David James has resulted in a three-year contract for the head coach. But a lot will depend on the 2018-19 season, wherein Kerala Blasters would look to end their long wait for silverware.