Liverpool
Keane tells Liverpool fans to 'lighten up' following 'back garden' jibe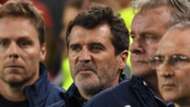 Roy Keane has responded to criticism of his "back garden" comments regarding Liverpool by telling his detractors to "lighten up".
The Manchester United legend did little to endear himself to supporters of his former rivals when questioning the entertainment value of Jurgen Klopp's side.
In the wake of a 3-0 Champions League win over Maribor, the outspoken Irishman told ITV: "I think it's hard to get excited about them. To me, they are going nowhere fast.
"Again, they're neat and tidy, but come the end of the season when the prizes are being given out, Liverpool will be nowhere near them. They're just drifting. Drifting nowhere.
"I think if Liverpool were playing out in my back garden, I wouldn't watch them."
His comments were met by an angry response from Reds supporters, but Keane insists he was speaking in jest and fully respects the Anfield club and their achievements in the past and present.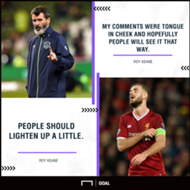 He told reporters while preparing the Republic of Ireland for a World Cup play-off clash with Denmark: "It was tongue in cheek.
"Anyone who has ever spoken to me about football will tell you the huge respect I have for Liverpool. I grew up watching them in the 80s winning leagues every year.
"My comments were tongue in cheek and hopefully people will see it that way. People should lighten up a little."
While playing down his actions while on punditry duty, Keane has also sought to commit  himself to coaching – with there no desire on his part to step out of an assistant role with Ireland and back into club management.
He added: "It's tough being a manager out there at the moment, that's why I'm better off staying here.
"It's par for the course, managers not getting enough time and getting pre-judged. There is a lot of media spin about certain managers out there, a lot of good PR for some managers. Some get away with murder.
"My desire at this moment in time is that I'm really enjoying what I'm doing with Ireland. The only thing on my mind is helping get the team to the World Cup.
"In terms of club management, all that is on the back burner. All my energy is with Ireland."