Kane transfer ruled out as Tottenham boss Pochettino responds to trophy claims
Tottenham head coach Mauricio Pochettino insists Harry Kane is "staying here" amid claims that trophies will be required to keep him.
Former Spurs boss Tim Sherwood is the latest to have suggested that silverware must be secured in order for the prolific 24-year-old to stay put.
He told Sky Sports: "There's only so much loyalty someone can show. Tottenham have been a great club for Harry and he's been paying them back tenfold.
"He's been outstanding over the last couple of seasons, he grew up a stone's throw from the ground and the kid loves the club.
"But that only lasts a certain amount of time. Then he starts seeing the pound signs and sees the likes of Barcelona, Real Madrid or - dare I say it - Manchester United - and then your head gets turned.
"The only way they can keep him is to win something this year. That something might not be the Carabao Cup, it might have to be the league or the FA Cup."
Pochettino is aware of the ongoing speculation, having fended it off at regular intervals in the past.
Manchester United were credited with holding an interest for some time prior to their £75 million signing of Romelu Lukaku, while Real Madrid have been mooted as a possible landing spot.
Spurs, though, tied Kane to a new five-and-a-half-year contract in December 2016 and have no concerns regarding the long-term future of their England international.
"Some people are also saying we must win trophies for Harry to stay with us but it's already been made very clear," said Pochettino.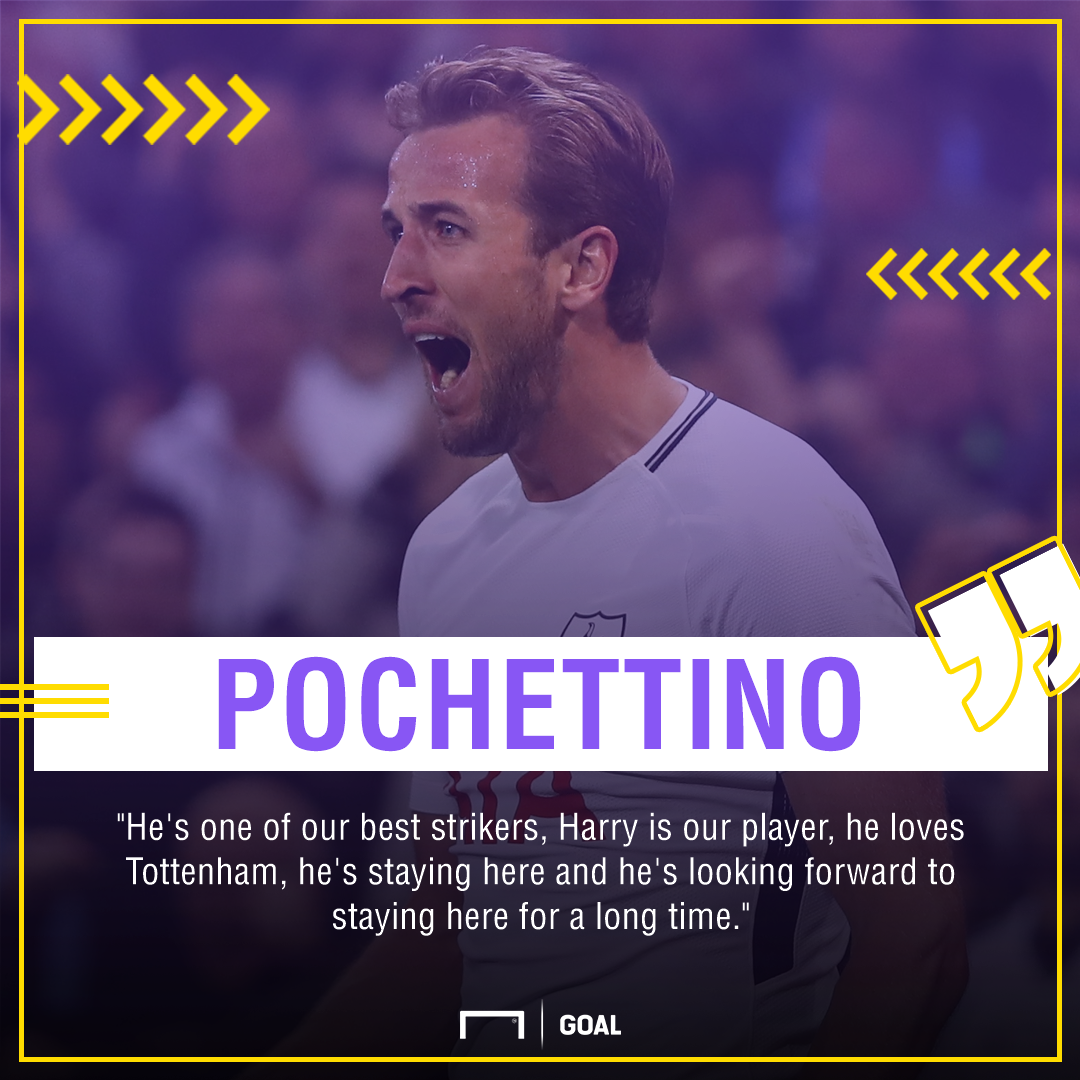 "He's one of our best strikers, Harry is our player, he loves Tottenham, he's staying here and he's looking forward to staying here for a long time.
"Tim [Sherwood] has the right to speak about Tottenham and Harry. But that is a question more for Harry and what he's going to do. The answer is Harry has the power and decision to say what he wants to do in the future."
Pochettino has also taken the opportunity to further talk up Kane's talent, after seeing the back-to-back Premier League Golden Boot winner named as the only Englishman on the 55-man FIFPro World XI shortlist.
The Argentine added: "Harry's one of the best strikers in the world, and that's the confirmation - how people around the world see him.
"It says clearly that people recognise his value and he's one of the best, playing for Tottenham, when we still haven't won trophies."
Kane once again failed to break his August hoodoo this season, but has netted four times in his last three outings for Spurs – in the Premier League and Champions League – while also taking his international goal tally to 10.