eSports
Kane in, Neymar out - FIFA 18 names Team of the Year attackers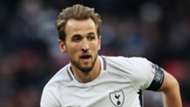 Cristiano Ronaldo, Lionel Messi and Harry Kane were named the attackers in FIFA 18's Team of the Year, the popular video game announced Monday.
Based on their real-life performances throughout 2017, a list of 55 nominees is being whittled down to a full XI based on votes from athletes, media and members of EA Sports FIFA community.
EA Sports sent a ballot box to eligible voters, who are picking their team in a 4-3-3 formation and submitted their choices by sharing a picture of the selection on social media with the hashtag #TOTYVote.
The attackers were the first to be named in a FIFA Ultimate Team pack, while other positions will be released all week until the weekend, when the full team will be available in packs.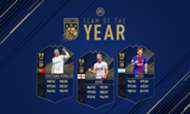 Among the biggest snubs for the top forward spots is Neymar, who has starred for Paris Saint-Germain following a stunning summer move from Barcelona.
Despite leading PSG to the Champions League's Round of 16 and to first place in Ligue 1, Neymar failed to make the top three behind former team-mate Messi and 2017 Ballon d'Or winner Ronaldo.
Instead, it was Kane who earned a spot among the world's best two players, after the Tottenham man set the Premier League record for goals in a calendar year in 2017 with 39.
The midfielders will be announced on Wednesday, while goalkeepers and defenders will be released on Friday. All players will be available in packs on Saturday and Sunday.