CSL
Juventus flop apologises for brandishing toy gun and yelling threats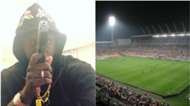 Former Juventus striker Mbaye Diagne has apologised for posting a video of himself holding a toy gun on Instagram.
The Senegalese striker, who now plays in the Chinese Super League for Tianjin Teda, uploaded the video last week in which he held the firearm and shouted 'don't touch my family'.
Diagne deleted the video after a complaint from Tianjin Teda and used Instagram on Monday to show remorse for his behaviour.
"Several days ago I share a video in which I carried a toy pistol. I though it was interesting, but actually my behavior had broken Chinese law," the 25-year-old said.
"I brought some negative influence to Tianjin TEDA FC. After the video was shared, club came to me immediately for behavior correction, I deleted the video under the guidance of the club and gave the toy pistol to my club and police.
"I apologize to the public for the negative influence which my behavior had brought to my club and Chinese society. 
"During my living in China in the future, I will be strictly obeyed to the Chinese laws."
Diagne didn't make a senior appearance while on Juve's books from 2013-15 but has scored 10 goals in 39 appearances for Tianjin Teda.