Opinion
Judging process begins for 2017 #WritingGamesNG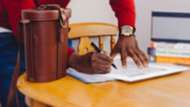 640 entries were received during the open process for submission of essays for the 2017 #WritingGamesNG competition under the title, "Making Nigerian football attractive in a digital age".
Goal.com and the University of Sussex alongside their partners CampsBay Media and Writivism have now proceeded into the next phase of sorting the applications before heading into the judging process.
"We are delighted to inform you that submissions for #WritingGamesNG 2017 which started on the 21st of August are officially closed. We have received entries from all over the country for the past four weeks and it has been an interesting process for us," said Oluwasogo Oladele, Project Manager of #WritingGamesNG.
"We are quite amazed at the response we got from young football lovers. Despite the fact that the whole process took just about a month, we were able to receive an incredible response from football lovers all over the country.
"A lot of people showed interest even though they were not eligible, this proves just how willing Nigerians are to participate in creative activities.
"More encouraging is the number of entries we received from female National Youth Service Corps personnel and final year students. This shatters the erroneous belief that football activities in Nigeria are predominantly male-centric. Indeed, for football in Nigeria to move forward, it must be able to attract all genders," he said.
The deadline for the competition was midnight on September 11. The judging process has started, and winners will be announced on the 18th of September.
The judges for the competition are Professor Dipo Salami of the Department of English, Obafemi Awolowo University, Ile-Ife, and Professor Richard Follet of the Department of International Recruitment and Development of the University of Sussex, Sussex, UK.
There were two categories for #WritingGamesNG this year – NYSC/final year undergraduates and secondary school/sixth form colleges.
10 finalists will be shortlisted for each category out of which the best three essays will make the podium to win the cash prize of N100,000 and N75,000 respectively.
An award ceremony will be held for the finalists on September 22 in Lagos.