Transfers
Juan Carlos Osorio pleased with Uriel Antuna move, other Mexico transfers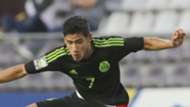 DENVER — Mexico coach Juan Carlos Osorio has regularly encouraged his players to go to abroad when possible and was happy to see another Mexican make the jump Wednesday.
Santos Laguna midfielder Uriel Antuna moved to City Football Group in a transfer announced Wednesday. Osorio had hoped to bring the 19-year-old to Russia to participate in training at the Confederations Cup like he did with defenders Edson Alvarez and Alejandro Mayorga. That wasn't in the cards as the teenager took part in preseason with Santos Laguna in the United States before today's announcement, but Osorio hopes the move will help boost Mexico's depth.
"It's very rewarding in Antuna's case because from the U-20s in Korea we wanted to bring three players: Alejandro Mallorga, Edson (Alvarez) and Atuna," Osorio said Wednesday. "Unfortunately we couldn't do it at the end, but I think it's very good for Mexican football that European clubs are looking at us with the possibility to sign new players."
Hirving Lozano, already a Mexico regular, signed with PSV from Pachuca during the offseason, and Santos Laguna loaned Antuna's fellow U-20 Joao Maleck to Porto with the option for the Dragons to buy the player at the end of the deal.
For Osorio, the more players getting experience at the game's top level, the better depth Mexico will have for tournaments such as the Gold Cup. 
"They are very young, very hungry for success and hopefully the ones that you mentioned will go there, get enough experience and then they will bring it back to the national team," the coach said. "That can only strengthen the squad, the depth of the squad, and hopefully we will continue growing as a national team."
Ochoa move to Standard disappoints
Mexico is set to face Jamaica tomorrow in the second group game of the Gold Cup with an alternate side after the team's stars took part in the Confederations Cup in Russia, finishing fourth.
No specific destination has been announced for Antuna, with the possibility open for him to go to various clubs in the City Football Group profile.