Transfers
Jorginho will move to Man City if Napoli agree terms, claims agent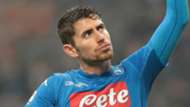 Italy international midfielder Jorginho will make a summer move to Manchester City if the Premier League champions can agree a transfer fee with Napoli, according to the player's agent.
The 26-year-old has long been linked with a switch to one of the Manchester clubs and the prospect of a deal coming to fruition seems to be increasing.
Goal revealed that Pep Guardiola's side want to make just two signings in the summer and are ready to go in big on Jorginho, who is valued in the region of £50 million ($67m).
City want the done deal before the World Cup and Joao Santos has indicated that it could rapidly be concluded.
"Jorginho is still under contract, but if Napoli find an agreement with City then he goes to Manchester," he told CalcioNapoli24.
"Finding an agreement with the English won't be a problem, considering their importance, but I repeat it depends on Napoli as the player is tied to the Azzurri for two more years.
"City are champions of England and among Europe's top clubs. Now we must stay calm. If Napoli and City find a solution, we can talk about it, otherwise the player will be happy to stay at Napoli.
"For now, I haven't heard from anyone at Napoli because I imagine they're busy planning for next season.
"I hope to hear from their director, and maybe he'll be in Naples in the next few days to talk about Jorginho." 
The deep-lying midfielder has turned out 38 times for Napoli over the course of the last season, scoring two goals and adding four assists.
He joined Napoli in 2013 from Hellas Verona, having spent time on loan at Sambonifacese. His breakthrough came in the 2013-14 season, Verona's first after winning promotion to the top flight, when he netted seven times in 18 appearances to catch the eye of the San Paolo side.
Though born in Brazil, he moved to Italy, the home of his grandparents, as a youngster and came through Verona's youth ranks. He has subsequently gone on to win five caps for the Azzurri.