Mamelodi Sundowns
Joel Masilela: George Lebese must fight for his place in Mamelodi Sundowns starting line-up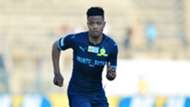 With reports that Mamelodi Sundowns winger George Lebese is considering leaving the club in search of regular game time, club legend Joel Masilela has urged him to stay and fight for his place in the starting line-up.
'Fire' reckons football is all about competition all over the world and he has urged all the players, who are not getting regular game time under coach Pitso Mosimane to keep working hard because the Brazilians are a big club.
"It is frustrating and I don't like to talk about players in such situations because that is a very sensitive topic and I know what it's like when you're not getting regular game time," Masilela told Goal.
"It can be frustrating for any player, but it brings a lesson that you must fight to improve yourself because Sundowns is a big team," he added.
"You need to realise you're heading for a big challenge whenever you join a big club like Sundowns and I don't want to single out Lebese or (Mogakolodi) Ngele," explained the legend.
"I think mentally and physically, you have to be ready to face the challenge and I am certain that this is not only happening at Sundowns," said the ex-Bafana Bafana player.
"In all the PSL teams, there are players who are not playing regularly and leaving is not the solution sometimes because football is competition. Wherever you go, you will find there is competition as teammates and against the opponents," advised Masilela.
Speaking about the upcoming Caf Champions League, Nedbank Cup and the ongoing Premier Soccer League (PSL) campaign, the retired winger said there will be opportunities for all the players.
"It's not only George or Ngele, who are frustrated in South Africa or in the world, there are many players even in Europe," he continued.
"I think there are about 30 players at Sundowns and not all of them will play regularly, footballers are aware of that and we all know that players improve because so and so is doing well in the same position," reacted the legend.
"That means you work hard to get a chance ahead of the other player. Look, even the coach knows that you cannot always chop and change the team because you will end up not having a solid starting eleven and that will cause problems for the coach," he noted.
"There are so many games and cups coming their way, I am sure the coach will use the players who are not regulars because there will be injuries, fatigue and suspensions. My point is if you keep working hard, you will definitely get a chance because the coach has a plan and he must follow it," said 'Fire'.
"I don't think there is a coach that doesn't want a headache when it comes to team selection, I also cannot just say because I am Fire Masilela, I will automatically get to start. No – football is not like that," added the 48-year-old.
"I will also need to work hard and push for recognition just like all the players. I believe this should be installed in our development teams that there is no favourite, every player must work hard and get to start based on merit," he urged.
"That way we will build mentally strong players. If you say to a youngster you are a favourite in all of his developmental stages, then that player will be stuck at senior level because he won't be able to compete," warned Masilela.
"My advice to any player, just stay with the club and work hard because it's easy to lose your focus and I am honestly not attacking any player, but offering my advice," concluded Masilela.