Manchester City
Jesus back in the groove as Man City keep up pressure on Liverpool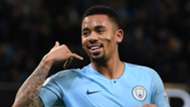 The tables have turned for Gabriel Jesus recently. When he first arrived at Manchester City two years ago he was the bright young thing, the man who replaced Sergio Aguero in Pep Guardiola's line-up, even for the biggest games, because he offered more than the legendary striker.
That has changed over the course of the last six months, with Aguero very much considered first choice yet again. Jesus, by his own admission, endured a difficult first half of the season and faced questions - often from his own supporters - over whether he was good enough even to be a back-up to Aguero, if City have pretentions of fighting on all fronts.
"Sometimes you get stuck in the past," he told Esporte Interativo back in December. "What happened, what's happening. I demand a lot from myself. It's far from being a start to the season like last season for me. So I get pretty into it. Of course, this year has not been easy for me. But, like I said, I'm happy again. My family arrived. I'm very happy, very happy."
Fast forward a month and the smile is certainly back on the Brazilian's face. His family and friends, who accompanied him in Manchester for his first year at City, were denied visas last January but they were allowed to visit over Christmas, and it may well have provided the spark Jesus needed to get back into form.
He scored twice against Everton three days after his candid interview, before sitting out much of the Christmas period with a knock. Since the New Year he has been on fire, hitting seven goals in his past three games.
Five of them may have came against lower league opposition in cup competitions, but the other two set City on their way to an important victory against Wolves, one that ensures their hard efforts against Liverpool 10 days ago did not go to waste.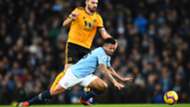 This was seen as a tricky fixture for Guardiola's men, and with some justification; the Midlanders took a point off City at the start of the season, likewise against Arsenal and Manchester United, while they have beaten Chelsea, Tottenham and, in the FA Cup, Liverpool.
Yet the idea of another upset never got off the ground. Jesus struck after just eight minutes, sliding in to get on the end of a low Leroy Sane cross after the Germany winger had been set free wonderfully by Aymeric Laporte's pass out from the back.
Fast starts have been a trademark of City's season - this was their 11th goal in the first 15 minutes of matches - and they looked even less likely than usual to let that slip when Willy Boly was shown a straight red card for a late, studs-up challenge on Bernardo Silva.
City did not create an awful lot against the 10 men from that point onwards but some more quick inter-play on the left saw Raheem Sterling win a penalty. Jesus slipped before scoring from the spot against Shakhtar Donetsk in November when even with a hat-trick to his name it looked like life was difficult for the Brazilian, but he looked assured here as he sent Rui Patricio the wrong way.
That was effectively that as far as the contest was concerned, City's lead and their relentless pressure against Wolves' 10 men ensuring that they could canter towards an eventually easy victory, even without looking their best. A Conor Coady own goal, forced by a wicked Kevin De Bruyne cross, provided the third goal.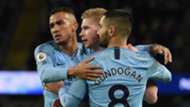 And while it could be argued that Jesus's goals may have been handed to him on a plate, or have come against poor opposition, that is not really the point.
It has looked like things were just not going for the 21-year-old this season, not just in front of goal - where he has been guilty of missing good chances - but in his overall play. Where there was once an irresistible pressing machine, combining with Sane and Sterling to produce wonderful one-touch moves, his touch has at times looked off and his link-up play limited.
But that, too, was back on Monday night, one particular second-half ball through to Sane earning him rave reviews.
And besides, anything that gets him back in the groove, a groove that he was so clearly out of, can only be a good thing for Jesus, especially now his loved ones have returned to Brazil.
"I have the feeling he has improved," Guardiola said of the striker on Friday. "He has improved, but he still has to improve. It's not easy for him to play in a position like Sergio - with his quality and he's a legend for the club. Sometimes clubs play with two strikers, we play with one.
"The most important thing for Gabriel is that he's always open. In the training session, every time it's like the last one in his life and that is the best way to be willing to improve. He has to improve - I think in the position he plays, in the small spaces, he has to be in the right tempo, with the right quality and right movement. It's not movement just for movement's sake - movement is going at the right tempo and at the right time. I think he's going to improve and I want to help him."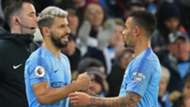 Aguero may well be the main man again, and perhaps he would have started this match had he not had a bout of flu last week, but he will start feeling the pressure again if his strike partner - or rival - keeps up this form. That much was suggested by his hardly concerned reaction when Jesus collided with the post in the first half - television footage showed the Argentine springing from his seat on the bench into an almost gleeful warm-up routine.
Aguero would not have had a future at City had he not reacted positively to the threat posed by Jesus' arrival, and that reaction has helped make him a more complete striker.
Guardiola wants to help Jesus down that path now, too, which could spell more time on the bench for Aguero. But anything that is good for Jesus is good for Aguero, and for City's chances of success this season.