Super League
Morais happy with result but not so much with some of the performances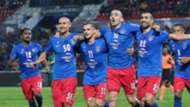 The 2017 Super League title looks destined to stay in the hands of Johor Darul Ta'zim (JDT) after they recorded a 3-1 win over Sarawak at Tan Sri Hj Hassan Yunos Stadium on Saturday. With only six more rounds of matches to go, the Southern Tigers are sitting pretty at the top of the standings, 11 points ahead of Kedah.
Mohammed Ghaddar set the league leaders on their way with the opening goal in the 12th minute but found Sarawak's defence hard to breach again. In fact, the visitors stunned the home crowd with the equaliser in the second half through Sahil Suhaimi.
Showing the true mark of champions, JDT rallied from the disappointment of conceding a goal at home by storming back with two goals of their own. Ghaddar grabbed his second of the night before Safawi Rasid's strike capped a decent performance from the reigning league champions.
Ulisses Morais couldn't help but be delighted in the manner his charges responded to the setback in the second half as JDT rallied to yet another win in the league. However, the Portuguese still note that there are a few areas that can be improved going forward into the next game.
Gabriel Guerra and Gonzalo Cabrera looked largely subdued before they were taken off early in the second half.
"I am very happy with the match results against Sarawak tonight [Saturday]. However, there are still some actions from the players that have not satisfied me yet. Many had noticed that."
"We realised that this match will be a challenging one because we know Sarawak will surely come to Larkin with a new spirit after the recent match with JDT. It is seen that Sarawak had given a different match tonight rather than previously," he said on Johor Southern Tigers.
With the brace, Ghaddar took his league tally for the season up to 21 goals - albeit 18 were scored for Kelantan before his mid-season move to JDT. But Morais was quick to point out that his team isn't about individuals and that everyone plays their part to ensure success for the club.
Natxo Insa continues to be one of the positives for JDT alongside one Safawi Rasid. Despite his part in Sahil's goal, Safawi did not let his head drop and he was the one that laid on the assist for Ghaddar's second goal before adding one of his own just minutes later.
"Regarding Mohammed Ghaddar, he is a great striker. It is proven when he successfully scored two goals for the team. Nevertheless in JDT, we cannot focus on specific individuals because we cannot ignore other players who have also worked hard for 90 minutes in the match. That is the situation in every match."
"JDT is now at the top of the league. We cannot be too comfortable because in football anything can happen. It is true that we have a large difference with other teams, but we still need to work hard because we want to give the best to Southern Tigers fans," he added.
For the time being the league takes a backseat as Malaysia Cup action resumes. A clash against Selangor on Tuesday night awaits, and it could be one that Morais again changes things around to keep his team fresh.