Johor Darul Ta'zim
JDT to host Charity Shield match, FMLLP released first dates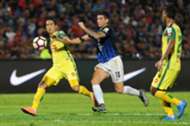 FMLLP today released the dates for all 2018 competitions related matters with Johor Darul Ta'zim (JDT) hosting the Charity Shield match against Kedah on February 3 2018.
As 2017 Super League champions, JDT against Kedah will be a repeat of the opening encounter from the 2017 season as Kedah qualified by virtue of being the 2017 FA Cup champions.
Kedah won the 2017 Charity Shield on penalties after both teams couldn't be separated in normal playing time.
The match also double up as a Super League match with the 2018 season planned to complete by July 28 2018.
There will also be a change in format with the Malaysia Cup now reverted to being a competition that kicks off after the conclusion of the league instead of being run concurrently as per the last few seasons.
The 2018 Malaysia Cup is expected to start in August, with the final planned to be held on November 3 2018.
As for the FA Cup, it will begin in the middle of February with the cup final scheduled for July 7 2018.
Teams have until February 11 2018 to complete their squad registration with the mid-season transfer window schedule from May 14 - June 10 2018.