World Cup
Japan vs Senegal: Live blog, text commentary, line-ups, stream & TV channel
That's all from us folks, we hope you enjoyed the game!
Both managers should ultimately be happy with both their sides' play and the final result – though Aliou Cisse might be wondering how his team let a lead slip through their fingers twice. Ahead of the other match in Group H which sees Colombia and Poland square off, Japan and Senegal lead the foursome tied on four points with an identical goal differential.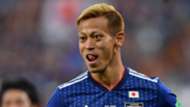 90 minutes of football could not separate the two sides, in what was a brilliant display of football from both teams. Senegal led twice through Mane and Moussa Wague, but Japan dug deep twice to level the scoring, with Takashi Inui's wonderful curling effort and Keisuke Honda's back-post finish earning the Samurai Blue a much-deserved point.
FULL-TIME: JAPAN 2-2 SENEGAL
---
90+4 mins: Makoto Hasebe is shown a yellow card moments before the end of the match for a cynical challenge in midfield. 
90+3 mins: Koulibaly's attempted overhead kick forces the referee to blow his whistle and award Japan a free-kick inside their own penalty area. Senegal were building a dangerous attack with only two minutes left, so Kawashima will be breathing sighs of relief as he boots the ball away from his goal.
90+1 mins: The referee indicates four minutes of stoppage time at the end of the match. Cheikh N'Doye is given a yellow card for an infringement during his aerial duel with Japan's Maya Yoshida.
90 mins: Takashi Usami breaks free on a counter-attack but Sabaly takes one for the team and brings down the Japan playmaker – which earns the Senegal defender a yellow card. 
89 mins: Keisuke Honda is taken down by Sabaly and the free-kick is taken quickly to Shibasaki who puts in a dangerous cross which is fluffed at by Sane – though the panic quickly dissipates as Khadim N'Diaye drops to his knees to make sure of the catch.
87 mins: Play is very disjointed now as the managers make their final switches. It is now Japan who put a hold on the action, as Takashi Usami enters the pitch in place of the fantastic Takashi Inui.
86 mins: Senegal make their final substitution five minutes before time, as a limping M'Baye Niang is replaced by Mame Biram Diouf in a straight attacking swap. Can another newly introduced player make his mark on proceedings? 
83 mins: Japan haven't won consecutive games at the World Cup since 2002, when they co-hosted the tournament with South Korea. On that occasion it was in their second and third game of the group stage (versus Russia and Tunisia).  
81 mins: Senegal respond to the Japan equaliser with their second substitution of the match, with Cheikh N'Doye replacing Badou Ndiaye in midfield. 
80 mins: With 10 minutes left, the result once again hangs in the balance. Japan have looked so much better in this second half, and that, coupled with a pair of attacking changes, has caused much confusion in the Senegal defence. It has been a fantastic match all around, though it seems to be getting better and better as we creep closer to its conclusion.
78 mins: AN IMMEDIATE IMPACT FOR KEISUKE HONDA AND IT'S NOW 2-2! A mad scramble in the penalty area ends with the substitute smashing it past Khadim N'Diaye in the Senegal goal! Osako teases in a cross which the goalkeeper comes out to deal with but he clatters into Sane and causes confusion. Inui feeds the ball in a second time and, while Shinji Okazaki is unable to get on the end of it, Keisuke Honda made sure to slot it home at the back post!
77 mins: Only two African nations have ever won both of their opening two matches to a World Cup tournament – Cameroon in 1990 and Nigeria in 1998.
75 mins: Genki Haraguchi is taken out in Japan's second substitution, with striker Shinji Okazaki taking his place in a forward-thinking and attacking substitution. 
74 mins: Keisuke Honda's first contribution is a corner taken from the left. The ball goes unclaimed and Osako pile drives an effort from six yards which cannons off of the body of Salif Sane and away from the goal. Japan immediately appeal for a penalty but replays show that the defender had his arm attached to his body – a good no call.
72 mins: Immediately following the goal, Japan make their first substitution of the match - an attacking switch that sees Keisuke Honda enter the match in place of Shinji Kagawa. 
71 mins: MOUSSA WAGUE MAKES IT 2-1 FOR SENEGAL! The Lions of Teranga are roaring once again! Mane chips the ball forward into the penalty area for Sabaly whose brilliant turn gives him enough time to centre the ball for Niang. Niang attempts a backheel flick which he gets wrong – but fortunately for him, his touch directs the ball perfectly to Wague who charges in from the top of the penalty area and blasts an effort past Kawashima who could not have saved that chance if he were given 100 tries!
69 mins: Mane and Sabaly stand over the free-kick but it's taken short by Sabaly who passes it to the top of the penalty area, where Maya Yoshida is first to it. That was a terrible set-piece and a wasted opportunity from Senegal. 
68 mins: Ismaila Sarr is dragged down from behind just before he enters the penalty area, and Takashi Inui was forced into making that challenge. He is shown a yellow card for the foul, and it gives Senegal a set-piece in a great position.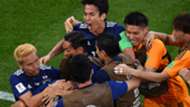 65 mins: Aliou Cisse is seeing his side struggling slightly and decides to make a change to wrestle back command of the match. Alfred N'Diaye is removed in favour of Cheikhou Kouyate in a straight swap in midfield. 
65 mins: INUI STRIKES THE CROSSBAR! Japan have been piling on the pressure and that could and should have been 2-1! Inui picks up the ball in the penalty area after a backheel pass from Gaku Shibasaki and curls the ball wonderfully towards the far corner. He gets his power slightly wrong however and puts too much on it, as the ball cannons off of the top of the crossbar and out for a goal-kick.
63 mins: Wague charges into the penalty area with the ball at his foot and clatters into a Japan defender, going to ground and immediately appealing for a penalty which is resoundingly denied by the Italian match official. A good call by the referee who has been quite good today.
61 mins: ALMOST A SECOND FOR JAPAN! Badou Ndiaye gives the ball away with a wayward pass very close to his penalty area but Osako is unable to get onto the cross-box pass and turn it past a scrambling Khadim N'Diaye! That is very sloppy from Senegal who are exceptionally fortunate to escape that error without punishment.
59 mins: M'Baye Niang is shown the match's first yellow card for flailing his left arm and striking the face of Shoji which knocks him instantly to the floor. That is Niang's second such challenge in the last few moments, and he is rightfully shown a card for the infringement.
58 mins: Play restarts and Haraguchi immediately fouls Sabaly, giving away a free-kick – though it looks as if they were both willing participants in that duel just outside the Senegal penalty area.
57 mins: Play has stopped momentarily as Makoto Hasebe is requiring treatment on the field after suffering a bloody nose during his duel with Niang shortly before the striker took his shot. The captain is bleeding profusely, and play restarts with only 10 Japan players on the pitch.  
55 mins: Niang has an effort saved well by Kawashima! The ball falls perfectly to the Torino striker outside the penalty area and he tees up an effort quickly, but the ball is hit directly at the goalkeeper without too much pace or venom.
53 mins: Japan play it all the way back to their goalkeeper before Kawashima hoofs it forward looking for Osako, but the play is whistled dead for an offside. That is a cheap turnover of possession by Japan who were, just moments before, looking comfortable on the ball.
51 mins: Such has been the limp nature of Japan's attack that is has taken almost an hour for Osako to be mentioned at all. The striker has been very isolated up front, with aerial deliveries almost useless against the menacing stature of both Salif Sane and Kalidou Koulibaly.  
50 mins: Shoji plays the ball into midfield but not before signaling to his team-mates to slow down the pace and settle a bit. A ball comes into the box which Genki Haraguchi heads towards Yuya Osako, but the Japan striker sends his strike right to the goalkeeper who collects gratefully. 
48 mins: The out-swinging effort is directed to Sane, but there are two blue shirts there to mark him tightly and he is unable to connect in the air.
47 mins: Mane sends a pass through the legs of Nagatomo but the Japan left-back has his blushes saved by Shoji who picks up the loose ball and clears the danger – but only for a moment as Senegal win themselves their first corner of the second half. 
46 mins: The second half is underway!
---
Japan have looked rather shaky when defending against Senegal's counter-attack, which will prove more and more lethal as the match drags on. Aliou Cisse has a number of attacking options on the bench should he demand his side push for a winner – with Mame Biram Diouf, Keita Balde and Moussa Sow all able to contribute to the scoresheet. For Japan, it will be a case of calmness on the ball, and control of possession without allowing their opponents to successfully win the ball high up the pitch. As we head into the second period, top spot in Group H is completely up for grabs and it could be a mistake that shifts the tides one way or another.
It has been a thoroughly entertaining first half at the Ekaterinburg Arena as Japan and Senegal are level at 1-1. Despite a lack of goal-mouth opportunity, there has been a lot of action to get excited about. Sadio Mane's opener gave Senegal a deserved lead after 12 minutes, and it looked like the African side would cruise to a victory. Japan's equaliser came as a bit of surprise, but it was a moment of quality – first from Nagatomo, then Inui – which forced Akira Nishino's side back into it.
HALF-TIME: JAPAN 1-1 SENEGAL
---
45 mins: Kagawa gives away a cheap free-kick just outside the corner of the penalty area. The ball comes in and finds Niang completely alone in the penalty area, but the referee finally blows his whistle to indicate that the Senegal striker had drifted into an offside position.
44 mins: Koulibaly sends Mane forward with a high pass but a Japan defender is in perfect position to block the forward and touch the ball out for a corner. Badou Ndiaye sends it to the near post but Japan are alert to the danger and ruin what was ultimately a decent idea. 
42 mins: Japan are holding possession, cycling the ball around in midfield partially looking for an opening, and partially to wind down the few minutes before the half-time interval. Niang puts in a defensive shift and forces Shoji into a bit of trouble on the touchline, but the Senegal forward ultimately gives his opponents a throw-in at the midfield line.
40 mins: Kawashima gets lucky as he rushes out of his penalty area to latch onto a Senegal pass. The goalie quickly isolates and strands himself, but Niang's effort is sent directly towards the shot-stopper, who makes an uncomfortable but ultimately successful parry.  
38 mins: Slightly against the run of play it has to be said, Japan capitalise on their first real effort on goal. Inui put the perfect amount of spin and curve on his effort and made sure that one chance was all he needed. This match is now finely poised – with both teams once again sharing top spot in Group H.
36 mins: Japan are piling on the pressure now as a cross comes in from the right-hand side. Salif Sane rises highest to clear the pressure and deny the Samurai Blue a quick second goal.
35 mins: Yuto Nagatomo has been dangerous on that flank on a number of occasions today - and he has finally made his pressure pay. His brilliant positioning led to Inui's goal, and the full-back will be credited with an assist for his contribution to the equaliser. 
34 mins: TAKASHI INUI LEVELS THE SCORE! JAPAN HAVE MADE IT 1-1! Nagatomo once again gets free on the left wing and splits two Senegal defenders before laying the ball off to Inui who has just enough time to take a touch before curling an effort into the bottom corner which Khadim N'Diaye had no chance of stopping! With 10 minutes to go before the half, the sides are once again even!
32 mins: Hasebe sends a suspect pass through the middle for Shibasaki who goes down under a challenge immediately after receiving the ball in front of the Senegal penalty area. The referee denies the player's claims of a free-kick and allows the match to continue.
30 mins: The atmosphere in the stadium is fantastic, as the Japan support has not lost its voice despite going down a goal very early on. To their credit the Senegal fans are also in full voice, urging their side forward in search of an insurance goal before the end of the half.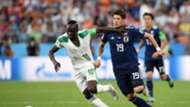 28 mins: Japan are dominating possession stats, but are failing to convert their ball control into real goal-scoring chances. Senegal are happy to let their opponents set the pace of play, before winning it back and counter-attacking with amazing fluidity. 
26 mins: Nagatomo gets in behind the Senegal left-back, but his cross is very poor and hit to the near post where a defender gets to it first to clear the potential danger. That attack is evidence of Japan's creativity, but also their quality delivery.
24 mins: While Japan have made it to the opposition penalty area, they have done very little to trouble Khadim N'Diaye. The Senegalese goalkeeper has not had to make a save so far today, with Sane and Kalidou Koulibaly looking very comfortable in front of their veteran shot-stopper.
22 mins: Japan have their first corner of the match which is taken short – but the quick set-piece fails to catch Senegal off-guard and the African side win possession and turn defence into attack with their trademark blistering counter. The ball is crossed in from the right to Sarr who attempts a half-hearted volley which forces a diving catch from Eiji Kawashima in the Japanese goal.
21 mins: Shibasaki takes the free-kick and puts it perfectly onto the penalty spot, but a Senegal defender rises highest and clears the danger without fuss. 
20 mins: Takashi Inui wins a free-kick after a clumsy challenge by Ismaila Sarr. The set-piece is on the left touchline and looks a good position for an in-swinger.
18 mins: This will be the fourth meeting between Japan and Senegal, with the African side unbeaten in the previous three (W2 D1, all friendlies).
16 mins: Hasebe has a shot blocked by his own player! Yuto Nagatomo jinks his way into the penalty area before cutting it back to Kagawa who sees Hasebe free just outside the penalty area. The midfielder hits a very clean strike at goal but the effort smacks against the back of a blue shirt who is part of a crowd near the penalty area. 
14 mins: Very poor defending by the Japanese who gifted that goal to their opponents after a number of questionable decisions in defence. A weak attempt at a back-post clearance allowed Senegal to continue attacking from inside the penalty area. How will Akira Nishino's side respond to this early adversity?
11 mins: SENEGAL TAKE THE LEAD THROUGH SADIO MANE! 1-0 TO SENEGAL! Wague puts a cross into the box which is not dealt with at the back post. The ball is gifted back to the African side and Youssouf Sabaly curls an effort which Eiji Kawashima saves, but only by punching the ball into the legs of Sadio Mane who turns it in past the goalkeeper! We have a breakthrough 12 minutes in!
10 mins: Moussa Wague puts a cross into the penalty area but there are no teammates waiting in the penalty area. The ball is hacked away quickly but possession is returned to Salif Sane whose pass for Sadio Mane runs too far and goes out for a Japan goal-kick.
8 mins: Gaku Shibasaki takes a free-kick from midway inside the Senegal half to the right side of the penalty area where the midfielder is hoping a teammate can get a knock-down from a header. The Senegal defence holds firm however and repels the attack immediately.
7 mins: Shinji Kagawa tries to get the Japanese attack going with a cross-field ball to Takashi Inui on the left-hand side, but the winger fails to control the pass and he gives Senegal back possession.
6 mins: Niang is once again involved as he wins a corner from the foot of Gen Shoji who was keeping a close eye on the Senegalese striker. Niang takes the out-swinging corner which is cleared out of the box by a Japanese defender before Youssouf Sabaly takes a speculative shot from distance which rises over the bar.
4 mins: Senegal have the first corner of the match which is taken by Niang. The delivery goes to the near post but the ball is unmet and runs through to the far touchline – causing the Japanese goalkeeper no danger.
2 mins: Senegal are starting very brightly, pushing very high up the pitch. M'Baye Niang misses a back-heel flick in the penalty area and Sadio Mane is unable to get onto the rebound. Nervy opening moments for the Japanese defence!
1 min: We're underway!
---
5 MINS TILL KO: The teams are out and the anthems are now underway, kick-off is just moments away!
10 mins till KO: Japan manager Akira Nishino keeps the same starting XI and formation that saw the Blue Samurai beat 10-man Colombia. The 4-2-3-1 provided organisation and stability for the Japanese, while allowing star player Shinji Kagawa to express himself in front of goal. He will no doubt be the key to unlocking the resolute Senegalese defence.
Aliou Cisse changes formation slightly from the 4-4-2 that beat Poland 2-1 to a 4-1-4-1 with Idrissa Gueye occupying the all-important space in front of the defence and behind the more advanced midfield four. The manager also makes one personnel change, as Badou Ndiaye takes up a position in midfield, forcing striker Mame Biram Diouf to the substitute's bench.
15 mins till KO: With 15 minutes before kick-off, it's about time we took a look at how the two sides will be lining up! Let's start with Japan!
Japan Starting XI v. Colombia (4-2-3-1): Eiji Kawashima; Hiroki Sakai, Maya Yoshida, Gen Shoji, Yuto Nagatomo; Gaku Shibasaki, Makoto Hasebe; Genki Haraguchi, Shinji Kagawa, Takashi Inui; Yuya Osako.
Japan substitutes: Keisuke Honda, Hotaru Yamaguchi, Shinji Okazaki, Masaaki Higashiguchi, Kosuke Nakamura, Naomichi Ueda, Wataru Endo, Tomoaki Makino, Gotoku Sakai, Takashi Usami, Ryota Oshima, Yoshinori Muto.
Senegal Starting XI (4-1-4-1): Khadim N'Diaye; Moussa Wague, Kalidou Koulibaly, Salif Sane, Youssouf Sabaly; Idrissa Gueye; Ismaila Sarr, Alfred N'Diaye, Badou Ndiaye, Sadio Mane; M'Baye Niang.
Senegal substitutes: Cheikh N'Doye, Moussa Konate, Cheikhou Kouyate, Abdoulaye Diallo, Alfred Gomis, Kara Mbodji, Lamine Gassama, Adama Mbengue, Mama Biram Diouf, Moussa Sow, Diafra Sakho, Keita Balde.
20 mins till KO: Senegal made sure to keep the pace in their first World Cup Finals action since a defeat to Turkey in the quarter-finals stage of their debut tournament in 2002. The Lions of Teranga impressed in their 2-1 defeat of Poland, forcing numerous turnovers and capitalising on frequent changes of possession – the likes of which led to Mbaye Niang's lead-doubling strike an hour into the match.  
25 mins till KO: A Shinji Kagawa penalty and a Yuya Osako goal 17 minutes from time rendered Juan Quintero's nifty free-kick a spectacular consolation. The victory gave the Samurai Blue a temporary lead atop the tournament's final foursome.
30 mins till KO: Today's match from the Ekaterinburg Arena sees a meeting between two sides who managed maximum points from their round of fixtures. A 2-1 victory for Japan over Colombia was seen as a bit of a shock; though Carlos Sanchez's early red card certainly altered the course of events.
45 mins till KO: Good afternoon and welcome to Goal's live blog of the Group H clash between Japan and Senegal at the 2018 Russia World Cup.
---
Squads & Team News
---
Confirmed Japan XI: Kawashima; H Sakai, Yoshida, Shoji, Nagatomo; Shibasaki, Hasebe; Haraguchi, Kagawa, Inhui; Osako
Japan subs: Sakai, Endo, Nakamura, Usami, Makino, Muto, Oshima, Yamaguchi, Ueda, Honda, Okazaki, Higashiguchi
Confirmed Senegal XI: K. N'Diaye; Wague, Sane, Koulibaly, Sabaly; Gueye; Sarr, A. N'Diaye, B.N'Diaye, Mane; Niang
Senegal subs: Sakho, Diallo, Gassama, Konate, Kouyate, Gomis, N'Doye, Keita, Sow, Mbengue, Diouf, Kara
---
TV Channel, Live Stream & How To Watch
---
In the United States (US), the game can be watched live and on-demand with fuboTV (7-day free trial).
New users can sign up for a free seven-day trial of the live sports streaming service, which can be accessed via iOS, Android, Chromecast, Amazon Fire TV, Roku and Apple TV as well as on a web browser.
In the United Kingdom (UK), the game can be watched live on TV on BBC One or streamed live online using the BBC iPlayer.
| UK TV channel | Online stream |
| --- | --- |
| BBC One | BBC iPlayer |