James can step out of Ronaldo and Bale shadows at Madrid to be a Galactico at Man Utd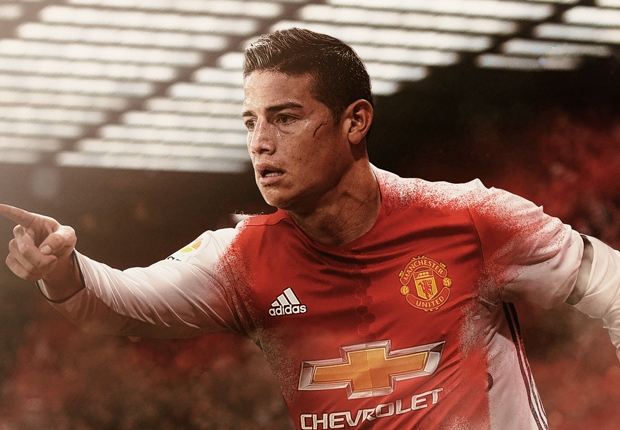 Getty composite
---
COMMENT
---
Luis Figo, Zinedine Zidane, David Beckham, Ronaldo (both of them), Kaka, Karim Benzema and Gareth Bale, just some of the greats to fall into the 'Galacticos' category at Real Madrid.
The recruitment model of Florentino Perez may not be to everyone's taste, and results on an individual level and as a collective have been mixed down the years, but the sense of ambition at Santiago Bernabeu is to be applauded and continues to offer plenty of entertainment to the neutrals.
The revolving door policy in the Spanish capital is not restricted to high-profile additions either, with there as many prominent figures occupying seats in the departure lounge as there are in arrivals.
Nacho: James hasn't said goodbye
Comings and goings are to be expected again in the summer of 2017, with the Blancos free to trade once more after serving a transfer ban during the winter window.
It could be that business is done with a familiar face looking to piece together his own version of the 'Galacticos' four years on from a spell at the Madrid helm.
Jose Mourinho's Manchester United side are very much a work in progress, with the cracks that appeared at Old Trafford in the wake of Sir Alex Ferguson's departure still being filled as scaffolding continues to support the playing staff at the Theatre of Dreams.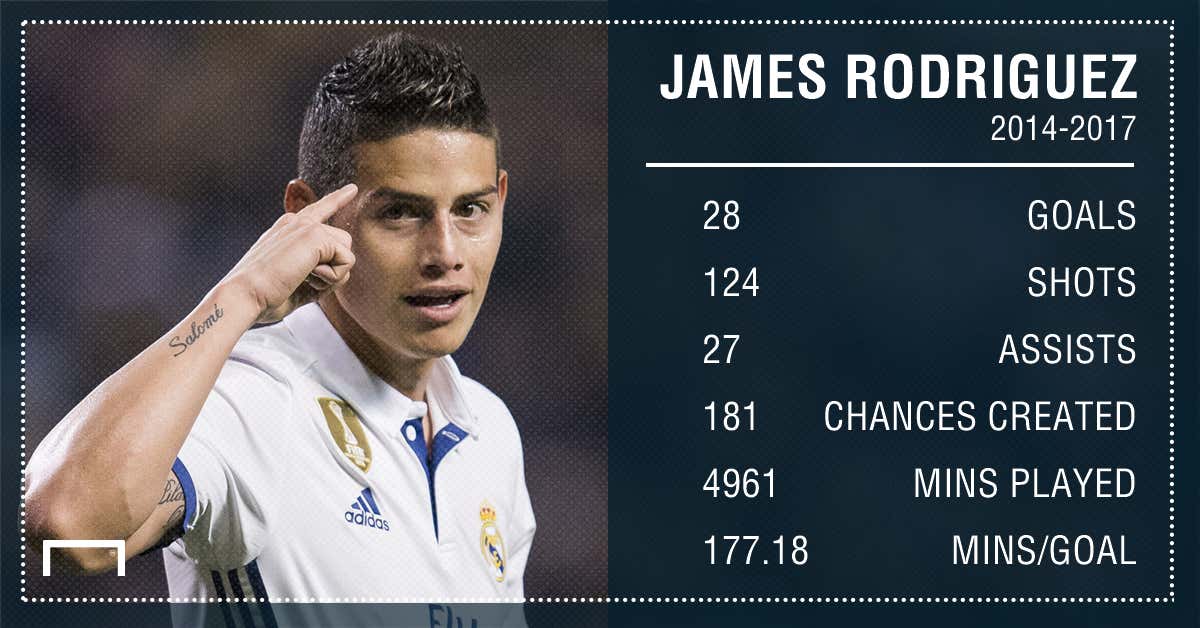 Big money has been thrown at quick fixes, though, and there is the promise of much more to come.
Paul Pogba's record-breaking transfer from Juventus in 2016 eclipsed anything even Madrid have done in the past and it is fair to assume that those considered to figure prominently on an ever-lengthening list of targets will not come cheap.
Antoine Griezmann? £86 million. Andrea Belotti? £84m. Marquinhos? £59m . Kylian Mbappe? £93m.
WATCH: James' stunning scissor kick
Any number of the deals mentioned above could be done, with there countless other names to be thrown into the pot as United prepare to pursue further world-class talent that can help them back to the top of the tree both domestically in the Premier League and across Europe.
A raid on Mourinho's former stomping ground in Spain cannot be ruled out, with there several stars in the Madrid galaxy that would likely appeal.
Among those is James Rodriguez, who has been heavily linked with United for several years.
He was taken to Madrid in the summer of 2014 after catching the eye for Colombia at the World Cup finals in Brazil and seeing his profile rise to a level which made him both an attractive sporting and commercial proposition to the Blancos.
James, however, found himself joining a side that already boasted Cristiano Ronaldo, Gareth Bale and Isco on its books in terms of attacking playmakers and the likes of Luka Modric and Toni Kroos as more deep-lying options.
Regular game time was always going to be difficult to come by, but James has set about tackling that challenge with grit and determination.
Who Man Utd should sell this summer
His numbers have dipped year on year in terms of appearances, while he has never looked close to matching the 17-goal haul from his debut campaign in the years which have followed, but his ability as a creative influence remains without question.
It is that part of his game which will be interesting Mourinho and leading him to put some probing questions to Ed Woodward and the Old Trafford money men regarding the funds required to net a player who is being valued at anywhere between £30m and £70m.
While there are never any guarantees in the recruitment game – with United having seen their fingers burned by the Angel Di Maria deal with Madrid in the not-too distant past – James could be considered an upgrade on the current crop of playmaking talent at Old Trafford.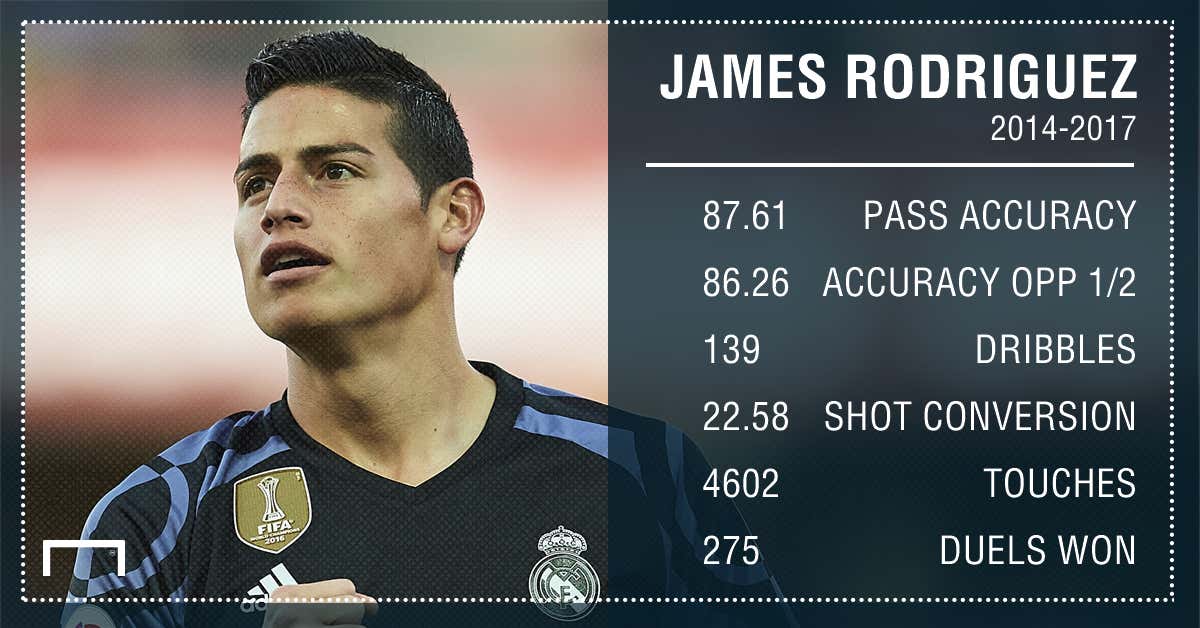 He compares favourably with all of those already on Mourinho's books, despite having seen less domestic playing time since joining Madrid than Anthony Martial, Wayne Rooney, Juan Mata, Paul Pogba and Henrik Mkhitaryan – with Jesse Lingard the only man he trumps.
James has netted more goals over the course of the last three years than any of his potential new team-mates in Manchester, while also providing more assists, creating more chances, posting a better conversion rate and minutes per game ratio and impressing with his passing stats.
Man City boss Guardiola hails James
Those numbers can also be converted to the current campaign, where the 25-year-old has once again seen less football but still been able to deliver six assists, six goals – at a rate of 167.67 minutes per effort – created 40 chances and boasted a pass completion rate of 88.61.
He is a player of the right age, profile and ability for United and has shown in his outbursts when substituted this term and in comments made about his future that he could be lured away from Madrid by the right offer and opportunity.
James said ahead of the winter window: "I can't assure I will stay at Real Madrid. I have offers. I am happy in Madrid, but I want to play more."
Mourinho could offer him that game time, with there every reason to believe that a man who has been forced to operate in the shadow of the 'Galacticos' in Madrid could become one in his own right in Manchester.