Transfers
James can be to Man Utd what Hazard is to Chelsea and Ozil to Arsenal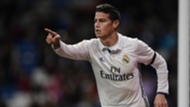 ---
COMMENT
---
Manchester United being linked with James Rodriguez is hardly a new thing. The club has been a huge admirer of the Colombian over a period of years, even before Jose Mourinho took charge last summer and brought his links to James' agency Gestifute with him.
It is no surprise, then, that United are said to have upped their interest in the Real Madrid star and could make a serious move for his signature this summer. And there are plenty of reasons to believe that such a deal would be one of the key steps Mourinho's side could make towards being a Premier League challenger once more.
To many, James is now a shadow of the youngster who stole the spotlight at the last World Cup, with his €80 million transfer from Monaco to the Spanish capital weeks later not having materialised as the parties involved would have hoped. But in truth, there are still plenty of indications that the 25-year-old might be ready to reach for the stars with United.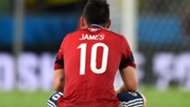 His first season with Madrid was a runaway success, but it was following the arrival of Rafa Benitez as coach that things began to go off the rails somewhat for James. Having played for Colombia at the Copa America and refused to return early from his holidays, there remained a disconnect between the player and his club boss for the duration of the Spaniard's short spell in charge.
After Zinedine Zidane succeeded Benitez, the first-team squad found itself in need of attributes that were not in keeping with James' qualities, and it has been in 2016-17 that he has begun to regain his feet – and his place at times – as he bids to return to the performance level of three years ago.
Nacho: James hasn't said goodbye
When he has been at his best he has had everything: pace, vision, guts, workrate, as well as those magic feet in most attacking situations. As such, if the potential £50 million fee being touted around is realistic then United are right to be tempted.
His qualities could be just what United need at the moment. With regular breakdowns of attacks around the edge of the area, it is the ability of somebody to be cool and calm but also instinctive and brave that has been missing from their game.
Moreover, Paul Pogba has found the expectation of being both instigator and developer of attacks too much in his first season since finalising an £89.5 million move from Juventus, and the addition of James just ahead of him would do wonders for the Frenchman in his quest for increased space and reduced burden.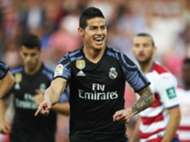 Some have questioned James' ability to deal with increased physicality, and rightly so since it is a concern which is raised over every player being brought into the rough-and-tumble arena of the Premier League for the first time. But he has proved in La Liga, on international duty and in his days back in South America that he can ride whatever challenges come his way and keep coming back for more.
Mou: United want trophies, not top four
If Mourinho is serious about embracing the United ethos of playing attacking football while also pressing his own case for the need to be well structured and frugal, then James could be just the kind of player he should be looking to sign.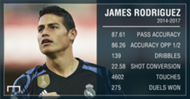 Some have asked if a move for James would rule out a push for Antoine Griezmann, but the Atletico Madrid star could easily be added to the roster too in a more attacking position and indeed could revel in the opportunities James is known for making. It could, though, spell the end of Juan Mata's time in Manchester if the Colombian were to arrive, with the dynamism supplied by James being superior to what the former Chelsea star has been able to add in recent times.
When Ander Herrera played a man-marking role on Eden Hazard in United's 2-0 win over Chelsea in April, the Blues were left looking somewhat one-dimensional and without a cutting edge. It is a similar look United have had for much of 2016-17, and James' signing could help to free up the sort of avenues in the Red Devils' side which Hazard does for the Blues, or Mesut Ozil does when on form for Arsenal.
At 25, his peak is still ahead of him, he has one of the most mesmerising skill-sets in world football, and he has exactly the kind of instincts Mourinho has been unable to coach into many of his attackers this term. James might well be the perfect addition to this Manchester United team.