Arsenal
'Iwobi transformed from ponderous to pivotal' - Arsenal star offers 'something different', says Smith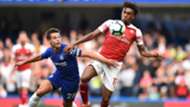 Alex Iwobi was once "ponderous", admits Alan Smith, but the Arsenal star is now fulfilling his potential and offers "something different" for the Gunners.
The Nigeria international's ability has never been in question, with Arsene Wenger having been happy to promote him from their famed academy system into the senior fold at Emirates Stadium.
The 22-year-old has, however, struggled for consistency at times, leading to him becoming an easy target for disgruntled supporters.
Iwobi has become a talismanic presence for his country, though, and has offered early indications under Unai Emery – who has handed him a new contract – that he could become a key part of the Gunners squad.
Smith believes such a standing is achievable, with the former Arsenal striker telling the Evening Standard: "It has been enlightening and heartening to watch Alex Iwobi shine this season.
"Though not a regular Premier League starter, the youth product, by featuring in the cup competitions, has given us a glimpse of the promise first seen on initially emerging two years ago.
"Since then, however, Iwobi's progress has stalled, leading to some Arsenal fans getting on his back.
"Ponderous in possession, first touch often heavy, you could see the uncertainty in everything he did. I wondered if he would ever bounce back to reach full potential.
"Lately, though, it has been the exact opposite. The 22-year-old looks powerful and positive with or without the ball, as if he understands his role. We hear he feels confident under Unai Emery, suggesting the new manager has devoted some time to improving the attacker.
"This all adds up to good news for the team as a whole, since Iwobi's game can provide something different when Emery sees fit."
Iwobi has started only two Premier League games this season, with his solitary goal of the campaign to date coming during one of those outings against Chelsea.
He has, however, impressed in Europa League and Carabao Cup competition of late and provides a useful option to Emery when the Spaniard wants to rotate or try a different approach.