Cherno Samba
'It's so sad' - Championship Manager wonderkid Samba savages England youth system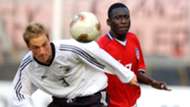 Cherno Samba, the wonderkid tipped for stardom by video game Championship Manager, has savaged England's youth system for failing young players, and has called for a cap on their wages.
Samba was a highly talented teenager, scoring over 130 goals in 32 games at schoolboy level and taking the scoring record of the previous highest scoring schoolboy – Michael Owen.
Signed by Millwall when he was still a boy, the hype around Samba led to a £2 million bid from Liverpool, as well as interest from Manchester United, Arsenal and Leeds United. The Merseyside giants were desperate to secure his signature; Owen even phoned Samba while he was on the school bus in a bid to convince him to join.
The deal fell through, with Millwall keen to retain their prized asset, but Samba continued to earn money far beyond his wildest dreams.
Speaking to Goal, he admits now that the largesse in the game is leading to young players believing their own hype, and focusing on the zeroes in their bank account rather than their football.
"I can sit down and say this now because people can say 'when you were younger, you were earning all this money so why didn't you say it then?' I understand that, I wish I knew then what I know now because I would have wanted a wage cap," he says.
"You go to Spain, Germany and that, they don't get the amount of money we get here. Older age, in terms of your late 20s, that's when you deserve the big money.
"When I was in Spain, the people at my age were earning €3,000 a month, and they were playing in the first-team, week in, week out. I was earning crazy money back then. I left England to go there so they had to make me feel good, whereas here, at a young age, at 17, I went and bought a brand new Peugeot, 11 grand, cash. I went to the showroom, I want an eleven grand car, crazy, at 17-years-old. That is wrong.
"Looking at it now, I know that is wrong. And this is the problem. By the time I was 21, 22, the football's out of the way, I was just thinking about the money and how I look good, got a nice house, nice car, that's it. And this is why we are suffering. There should be a wage cap. It's never going to happen, because football has gone to another level now with money but it's sad. It's really sad."
Samba was capped at various youth levels by England, and he recalls his time playing for the Under-17 team with varying degrees of pride and sadness.
Only two other players – Wayne Rooney and Wayne Routledge – from his year group remain in the game, and he mourns a lost generation of talent.
Indeed, he believes there is a lack of safeguarding for young players, insisting we should learn from the examples set by Spain and Germany, who have consistently produced world-class talent.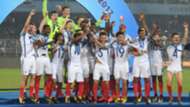 "We hype our youngsters so much and what annoys me is that as soon as they have a bad game, or one or two bad games, they just put them all the way up in the sky and then drag them right down to the bottom and that's what hurts me most," he adds.
"You go to any country, Germany, Spain, Italy, Brazil, they're not like that. They help their players, and that's why they produce players week in, week out and they do well in tournaments, whereas we hype our youngsters that by the time we've reached our potential, we're nobody again.
"That's because we do get too much hype. It's like the other day, I was talking to one of my mates, and I've got this picture of the England Under-17s and when I showed him, we saw there are only three of us still in the game; me, Wayne Rooney and Wayne Routledge.
"Everyone else disappeared, you don't even hear about them, they're not in football anymore. So that says a lot and there were players in that picture who were unbelievably talented. But they were hyped and it's too much. We're overhyped, it doesn't help."
Samba continues to work in football, despite being forced to retire due to injury, coaching at Tottenham, and is writing a book about his career and his experiences.
While his story may be seen as something of a fable on the perils of having too much, too young, Samba has a mature head on his shoulders, and believes too many jump on the bandwagon with young players too early.
"I could get away with murder," Samba recalls when asked about the way he was portrayed in the media as a teenager. "I couldn't do anything wrong, but those people weren't helping me. Because I was young, if anyone were to criticise me, I would say 'no' and just abandon them, because they were nobody, I didn't want to know anything about them.
"But the people that were praising me, I wanted them around me, so anyone that gave me bad, negative vibes I didn't want to be around those people.
"So you've got to be grounded, you've got to say 'yep, well done Cherno, that's good. Carry on.' Not, 'bloody hell Cherno, you're amazing, you've made it, you've done it', that's not helping me, and in the media too, with 'Cherno's this' and 'Cherno's that'. That's not helping me, and this is what we do to our kids, and this is what we do to our young players, we hype them up."
Referencing England's Under-17 team, which won the World Cup, he adds: "Spain wins those sorts of tournaments all the time. They talk about it for one day, two days, then it's done with, forgotten, you don't even hear about it, whereas here, we go on about it and go on about it and go on about it.
"We tell people, he's going to be in the first team, he's going to be this and that, next minute, they don't. This is what happens.
"A lot of people don't realise the pressures we face as young players. It's a lot. It's unbelievable, and I think we need to protect a lot of youngsters."