'It's always them!' - Milan fury only adds to controversy over Juventus' relationship with referees
Last Updated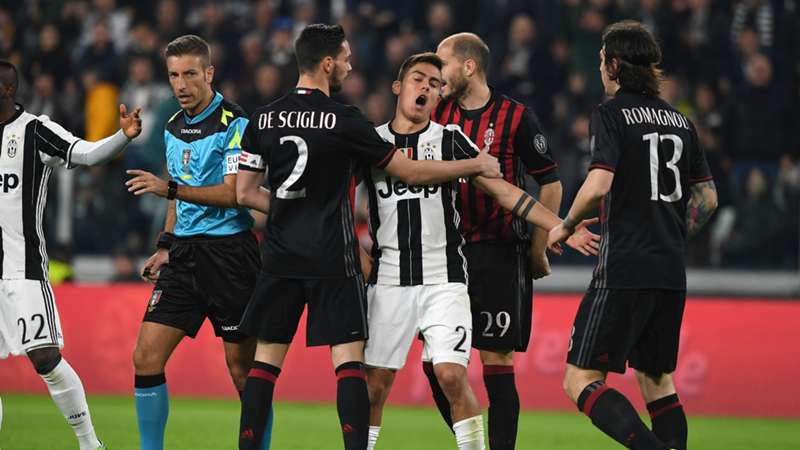 Getty Images
---
COMMENT
---
Roma midfielder Radja Nainggolan spoke for many fans and followers of Italian football when he recently admitted, "I hate Juventus because they always win with a penalty or a free-kick."
Friday night's 2-1 victory over AC Milan will have done little to change that negative perception, one that is held by half the population of a football-obsessed country that often feels like it is divided not only geographically and economically, by north and south, but also by Juve.
Dybala penalty downs Milan at the death
The five minutes of allocated injury time in Turin had almost elapsed when Bianconeri full-back Stephan Lichtsteiner tried to cross the ball into area. It only got 1.87 metres before it struck the arm of Milan defender Mattia De Sciglio.
The referee's assistant signalled for a penalty and all hell broke loose. The visiting team were incensed, feeling that De Sciglio's handball had not been deliberate, that there was no way he could have got his arm out of the way, given his proximity to the ball.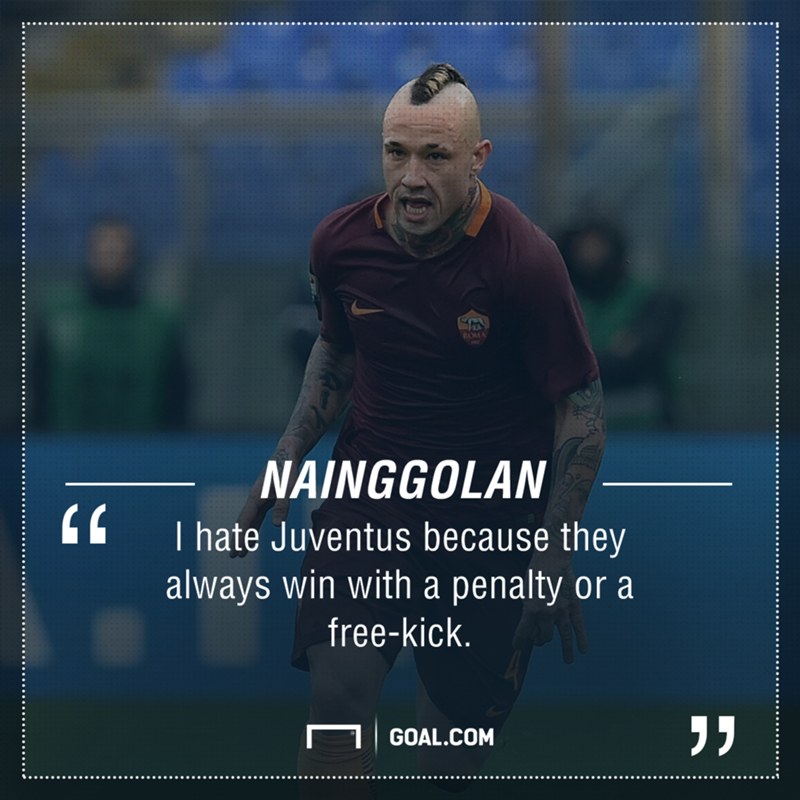 The referee, Davide Massa, consulted with his colleague to make sure of what he had seen and promptly pointed to the spot, despite the protestations of those clad in red and black all around him.
The brilliant Paulo Dybala kept his cool to beat the giant Gigio Donnarumma from 12 yards out with a wonderfully struck, and even better placed, shot to win the game for Juve - as well as extend their record-breaking run of Serie A home wins to 31.
Milan were furious, with coach Vincenzo Montella having to restrain Carlos Bacca, who had netted the equaliser, from confronting the match officials and, for once, the Rossoneri's city rivals Inter could empathise.
The Brazilian who fed his lover to dogs
Indeed, the Nerazzurri feel that Juve's winning streak should have come to an end last month, when they were left enraged by the performance of referee Nicola Rizzoli.
In Inter's opinion, it was not Juan Cuadrado's thunderbolt that decided the game in the Old Lady's favour, but the match official, who had waved away two big penalty appeals and shown red cards to both Mauro Icardi and Ivan Perisic.
Icardi had been at the centre of a contentious incident in which he intercepted a pass-back from Giorgio Chiellini and bore down on Gianluigi Buffon only for Rizzoli to halt play.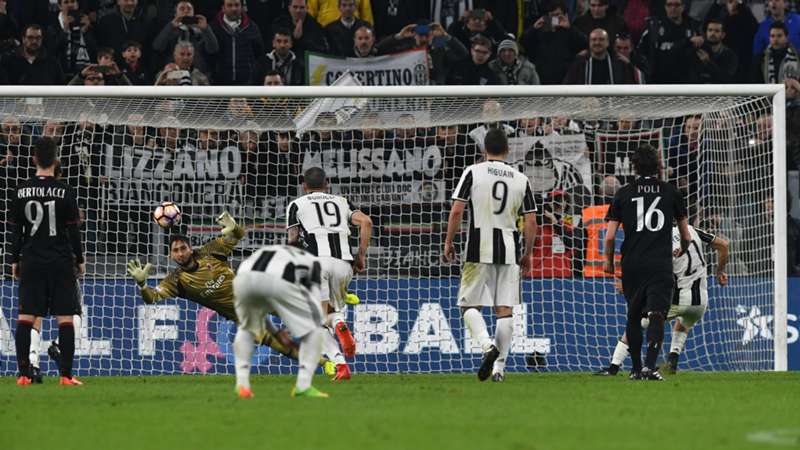 It was claimed that Chiellini had merely been giving the ball to Buffon to restart play from a free-kick but Inter felt otherwise and even the integrity of the TV director was subsequently called into question because the replay was never shown during the live broadcast.
Such is the nature of the cynical, conspiratorial world of Italian football, Juve's next few games were always going to be closely monitored, so it came as no surprise when controversy reared its head again after Juve defeated Napoli in the Coppa Italia thanks to two penalties, both of which infuriated the Partenopei.
The second really stung, as it arrived just seconds after Napoli's Raul Albiol felt that he had been tripped in the area by Miralem Pjanic. The Partenopei defender called it "a scandal", while sporting director Cristiano Giuntoli said the decisions "were not debatable, but shameful and damaging to all of Italian football."
The last thing the game needed, then, was further controversy involving Juve and officials, but that's what we got in Turin on Friday.
The pity was that this latest furore overshadowed another outstanding display from Donnarumma, who underlined just why Juventus - and everyone else for that matter - view him as Gigi Buffon's natural successor.
The AC Milan No.1, who, rather ridiculously, only turned 18 last month, kept the Bianconeri at bay almost on his own, making a whopping nine saves in total.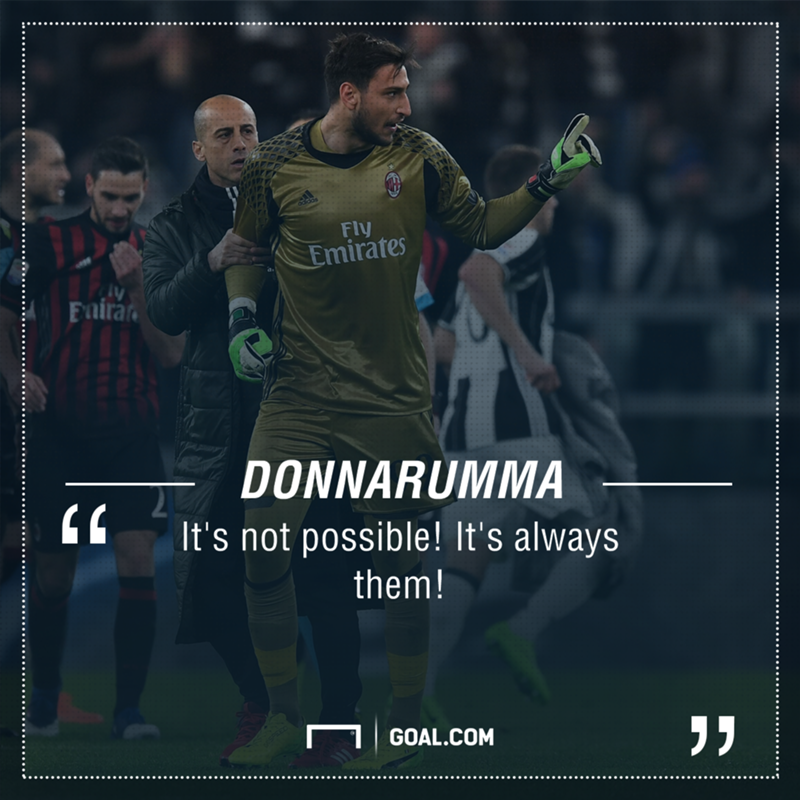 Of course, all of this counted for little, as all anybody wanted to talk about afterwards was Juve and the allegedly preferential treatment they receive from referees.
Even Montella, who admirably apologised for the touchline fracas at full-time, admitted that it was impossible to avoid the issue.
"I prefer not to talk about referees, even if on days like this it becomes difficult!" the Milan boss told Mediaset Premium . "Massa told me he took the responsibility of giving the penalty but I am told he was far away and couldn't have seen it."
Juventus extend perfect home record
Juve captain Buffon stated before the game that he was fed up of other clubs always questioning the legitimacy of his club's wins, stating that "with such things you need shut up, go home and improve."
However, if, as Montella says, Massa made the penalty decision and was only seeking confirmation from his assistant that the ball struck De Sciglio's hand, Juve's critics are not going to remain silent.
Indeed, this time it was the irate Donnarumma who doubtless spoke for half the country when he became embroiled in the fracas at the end and screamed: "It's not impossible! It's always them!"