Bayern München
Italy legend Buffon takes to video to wish Lahm well on retirement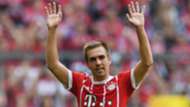 Juventus keeper Gianluigi Buffon has sent a video message to the retired Philipp Lahm, congratulating him on his accomplishments and saying it was a "big honor" to face him.
The Bayern Munich defender played his final game of an illustrious career in his side's 4-1 win over Freiburg, which capped off another title-winning Bundesliga campaign for the club.
Lahm bids farewell as Bayern party
And Buffon took to video to offer his best wishes to 33-year-old Lahm, who he last met on a competitive field in the 2015-16 Champions League round of 16, where Lahm and Bayern knocked out Buffon and Juventus 6-4 on aggregate.
In the video, posted on Bayern Munich's twitter account, Buffon congratulated Lahm on his accomplishments, which include having won eight Bundesliga titles, six DFB-Pokal crowns, a Champions League and Club World Cup, all with Bayern Munich and a World Cup with Germany in 2014.
From one legend to another - @gianluigibuffon #DankePhilipp pic.twitter.com/zSZwa6RkLq

— FC Bayern US (@FCBayernUS) May 20, 2017
"Dear Philipp, I hear that after winning every kind of trophy in your career, you decided to stop," Buffon said. "Well, what I want to tell you is, for me, it's been a big honor to play against you because every time, you were very determined but also, very fair.
"Good luck for the future in football or any other field of your life."
The 38-year-old Buffon, who has not set any retirement date himself, will aim to add another trophy to his own impressive case when Juventus faces Real Madrid in the Champions League final on June 3.