Chelsea
'It was such a big relief' - Chelsea title win means everything to Fabregas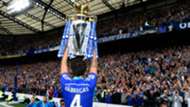 Cesc Fabregas has won the biggest prizes in football, but considers Chelsea's Premier League title win in 2014-15 to be among his greatest successes.
The Spain international has tasted World Cup and European Championship glory, having formed part of a remarkable era for his country.
Shearer: Costa could still leave
He also picked up regular silverware while on the books at Barcelona, with La Liga, Copa del Rey and Club World Cup crowns on his distinguished CV.
Fabregas, though, admits that it was "a big relief" when he finally conquered the English top-flight.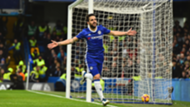 Having gone close on several occasions with Arsenal, the 29-year-old got his hands on the trophy after being brought back to England by Jose Mourinho.
"The day we won it, I remember I just went on my knees," Fabregas told Chelsea's official website.
'Luiz has three great years ahead'
"It was such a big relief. I remember I had competed a lot of years, sometimes we were close, sometimes not so much, but I really tried to give a lot everywhere I have been in the Premier League and to finally achieve it was one of the best moments in my career.
"You can win a World Cup or a Euros, which is maybe the best a player can win, but when you've been trying to fight for a trophy for so many years, when you came close sometimes, you gave so much and fought so much for it and in the end it happens, it was personally a big achievement."
Fabregas is now chasing down another Premier League title under the guidance of Antonio Conte.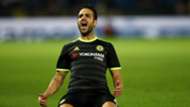 He has not always been a regular under the Italian, but has shown his value when called upon and recorded his 300th appearance in the English top-flight during a 3-1 victory over Swansea City.
"Obviously there are hard moments. Not everything is fantastic," Fabregas added.
'Kante wanted to go to Marseille'
"You have to be ready for that, but there is something about the ups and downs football gives you that is the reason why we love this sport so much.
"Even the difficult moments make you stronger and better. To always have the mental strength to overcome them is fantastic, and to be on top of the game for so many years, since a very young age, makes me proud."