Borussia Dortmund
'It has been a superb moment' – Gotze delighted with Dortmund return after several months out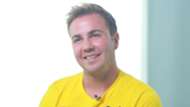 After missing the second half of the 2016-17 season with a metabolic disorder, Mario Gotze is back for Borussia Dortmund. 
The Germany international played his first minutes since February in his club's pre-season friendly against Japanese side Urawa Reds on Saturday, an appearance that made all of Gotze's hard rehabilitation work worthwhile. 
"it was not so easy for me the last months, so it was a good moment for me," Gotze told Perform Group Portals about his return to action.
Bet on Man Utd vs Real Madrid in ICC
Gotze endured a difficult 2016-17 campaign in his first season back with Dortmund following a move from Bayern Munich. The 25-year-old managed just 16 appearances in all competitions, scoring two goals. 
In March, he was diagnosed with myopathy — a rare disorder that causes muscle weakness and fatigue, and he began rehab immediately.
"I had my special program, which intensified day by day and week by week," Gotze said. 
"It was an individual plan, so I spent the last five months training, [going] running and [doing] much work in the gym. I intensified it step by step and week by week.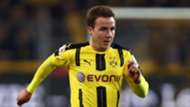 After a long time away from the squad Gotze was finally able to rejoin his team-mates in pre-season, with the club currently on a tour of Japan and China. 
"Yes, it has been a superb moment, definitely," Gotze said of his return to the first-team set-up.
"I have been in rehab for five months, so I could not train with the team and have not been with the team. So this just makes it more beautiful for me to be with the team again and train with them."
Gotze has returned under a new boss, as Peter Bosz has replaced Thomas Tuchel at the helm for BVB. 
Watzke: BVB still far behind Bayern
"He has made a good impression on me," Gotze said of the Dutch manager. 
"He is very open and has a very, very good philosophy. I think his ideas are an advantage for us and we will have fun with him and his team."
Dortmund have said they will be cautious with Gotze as he continues working toward full strength. 
For now, the player who scored a World Cup-winning goal at the age of 22 has more modest goals for the upcoming 2017-18 season. 
"It is very simple," Gotze said. "I want to be healthy and able to play. That's the only aim I have at the moment."