Indian Super League
ISL Final: Chennaiyin FC's John Gregory - 'We have another name for the Super Cup'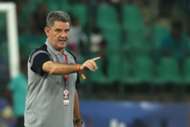 Indian Super League (ISL) champions Chennaiyin FC are likely to hand chances to fringe players in the squad when they take to the field in the much-maligned Super Cup. 
Head coach John Gregory playfully suggested that his team have a different nickname for the competition when he was asked if the Marina Machans were looking forward to winning the tournament next. 
"What is a Super Cup? We have another name now for that cup (chuckles)," he said. 
"There were eleven players here tonight who weren't involved in the game. I expect to make changes (for the Super Cup). I respect the competition." 
Chennaiyin FC have been handed a spot in the 2019 AFC Cup qualifiers after their ISL victory on Saturday. Gregory went on to express his happiness at the fact. 
"I'm glad, we will be looking to do the same next year. Hopefully, we can be in the same situation next year." 
The former Aston Villa boss went on to praise the owners of the club, who include Bollywood star Abhishek Bachchan and Vita Dani, for handing him a free role during the season which has culminated with the Marina Machans winning silverware. 
"They leave me alone. That is a huge compliment. If you are in charge and you like to be the boss of your household, you like to be the one that makes the decisions.
"But they let me alone. I have never been questioned (on team selections). I know other clubs where owners have come in at half-time and they criticise the players." 
He went on to reveal that he was in talks with the club over taking over for the next season as well. 
"I have been talking (with the club) in the last couple of days. I think, to be honest, it might be a good time to resign (winks)."