Indian Super League
ISL Final: 'Smart and efficient' - How Bengaluru FC put together their squad!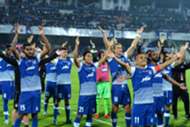 Bengaluru FC, in their first ever season in the Indian Super League (ISL), are on the verge of winning the competition. On Saturday, they will take on Chennaiyin FC in the final at the Kanteerava stadium in the summit clash, looking to keep their run of winning a trophy in every season going. 
The Blues romped their way into the playoffs by securing 40 points from 18 games, eight more than second-placed Chennaiyin FC. They also had the second-best attacking record and the best defensive unit, indicating their dominance over the other teams during the league phase. 
FC Pune City would be vanquished in the semifinal play-offs as well and much of the applause goes to the think-tank which put together a strong squad despite having had to go through the player draft before the season. 
Chief Technical Officer (CTO) Mandar Tamhane played a huge role in assembling the team. First and foremost, the team decided to stick with head coach Albert Roca who has been at the club since 2016, meaning a continuity factor was established.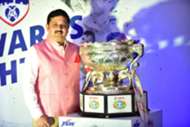 The next step was to decide on the Indian player retentions. Sunil Chhetri (which was an obvious choice) and Udanta Singh, along with young Nishu Kumar and Malsawmzuala were retained. Meanwhile, central defenders John Johnson, who has been at the club since its inception, and Juanan extended their stay at the club, giving the squad a familiar look. 
Also, Bengaluru's strategy going into the draft was smart. Despite the lure, they did not go for big names. The think tank consisted of Tamhane, Albert Roca, his assistant Carles Cuadrat, Naushad Moosa and Srinivas Murthy. They targetted specific positions and had listed down players they thought would fit in the positions required. They had at least four or five names ready in each position. 
Bengaluru wanted Indian full-backs, goalkeeper and defensive-minded players, given that they had Sunil and Udanta already and they were already looking to sign a foreign striker apart from creative midfielders. In fact, Mandar Tamhane had his eye on Dimas Delgado even before they went into the Indian Player draft. 
Their decision to go for goalkeeper Lalthuammawia Ralte as their first pick only reinforces that point. One has to mind the fact that Ralte was only seen as a backup for Gurpreet Singh Sandhu since the team had felt that they could close the deal for him from Stabaek the day before the draft.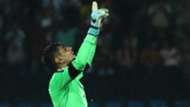 Rahul Bheke, Harmanjot Khabra and Subashish Bose followed, showing they filled out their immediate spots in defence before moving on to the midfield - which was their pattern in the draft. Later on, they signed the likes of Joyner Lourenco and Collin Abranches who could cover the defence and play in multiple positions. 
According to Mandar Tamhane, 90 per cent of their draft picks were the first or second choices and in the rest of the cases, third or fourth alternatives. Whatever positions they could not get an ideal player was covered with their foreign signings. 
"Most other clubs went for big names (in the draft) and that played into our hands. We got what we wanted from the draft and the performance of these players has been more than average. 90 per cent of the players we picked is what we planned for initially," Tamhane told Goal. 
"The beauty and sadness of a draft is that some players have to be sacrificed. For example, if I need Balwant (Singh), I might have had to let go of one of my first choice defender. Which does not make sense for us as we already have Chhetri and Udanta." 
Tamhane also played a huge role in convincing Gurpreet to sign for Bengaluru from a European club. The negotiations had stretched to the final day of the summer transfer window and the Blues had to shell out a transfer fee to Stabaek FC. But the former East Bengal custodian was finally brought in. 
Bengaluru FC, who play in the AFC Cup, also needed an Asian foreign player. But since they had Spaniards Dimas Delgado and Toni Dovale (both creative players) in mind already, decided to go for a defensive minded midfielder in Erik Paartalu. Also, the Aussie' imposing physique added another dimension to their team. 
The Blues also wanted a versatile number nine and Miku was roped in. Tamhane reveals that he had watched him in Spain but never thought a deal could be closed for him but in the end, they succeeded in luring him to India. Yes, big money was splashed on him but the reasoning behind it was that if his goals propelled the team to the title, it would be well worth it. 
However, they had a minor setback when ISL did not approve the signing of John Johnson. As per rules, a team should sign at least seven foreigners with ISL's approval and could sign one player without the same. 
Dangerously close to the wage cap, Bengaluru managed to bring in a technically proficient player in Edu Garcia on low wages which was approved by ISL and Johnson was also included in the squad. 
Bengaluru were calculative and decisive in the way they put a team together and the result is there to see for everyone. They are one step away from a historic achievement.