Indian Super League
ISL 2018-19: Kerala Blasters to continue pre-season in Thailand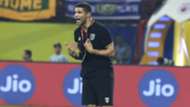 Kerala Blasters are set for the second phase of their pre-season in Thailand ahead of the fifth edition of the Indian Super League (ISL) season.
The squad will be training in Hua Hin, Thailand, from September 1-21. During the three-week stay, they are expected to be involved in five practice matches against local opponents.
The club earlier kick-started their pre-season training at Ahmedabad's TransStadia facility and played against the likes of Melbourne City (lost 6-0) and Girona FC (lost 5-0) in the LaLiga World Tournament that was held in Kochi in July.
Commenting on his preparations so far, head coach David James said, "I am extremely happy with the team's progress in the last week or so. We are familiar with the facilities here in Ahmedabad and we have had another good stint here.
"We are looking forward to the Thailand leg of the preseason and the facilities there are great. I am sure we will get some good competition in the five matches scheduled in Thailand. This will ensure we are in good shape by the time the season kicks off on the September 29th," he added.
Though the team was supposed to assemble in Kochi from August 18, the recent floods in Kerala forced the Blasters to shift the training to Ahmedabad.
"The players were extremely keen to get started in Kochi. What happened in Kerala was unprecedented and extremely sad. We are looking forward to returning to Kerala soon," James asserted.
The Yellow Army finished sixth in the ISL 2017-18 season and will be taking on ATK in Kolkata in this season's opener on the September 29.