Indian Super League
ISL 2018-19: David James - Delhi Dynamos have a young squad like Kerala Blasters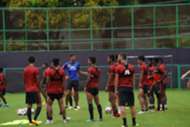 Kerala Blasters head coach David James rued the two dropped points against Mumbai City FC and said that the team is motivated and working hard to get back on track. 
"Everyone is putting their effort, the attackers, midfielders and defenders. Just like the (Indian) national team, we attack together and defend together. I'm really happy with the way the things are going. It was disappointing to concede in the last minute of the game against Mumbai but that does not take away anything from the strike. It was a beautiful strike." 
The international break was a good time to sit and ponder over the Mumbai game and David James looks to put the disappointment behind him and is thinking about exploiting Delhi's weaknesses.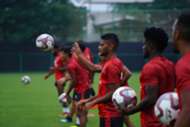 "It's disappointing when it looks like you are winning and someone scores a wonderful goal from 32 yards, forever curling into the top corner. It was like a defeat. But I think the difficult part was the two weeks break after that and then you are asked about it in the press conference after the break. You just play to win the game and the two weeks were a wonderful break. There's a little bit of frustration. We need to analyze it objectively, not subjectively and look forward and prepare for the match against Delhi." 
The Englishman praised Sandesh Jhingan's leadership qualities and backed Stephen Constantine's decision to name him as the national team's captain for the recently concluded China clash. 
"It was interesting that Stephen picked Sandesh as the captain for the game. From day one, Sandesh has believed in leading by example on and off the pitch."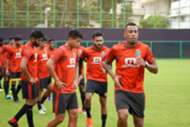 Delhi Dynamos have a squad with an average age of about 25. Only Kerala Blasters (23.85) have a younger squad. David James had positive words for Delhi as he spoke about the importance of fielding a young squad. 
"Last season was interesting, but I came in late. They are a very interesting team but historically our boys have a good record against them. What I like about Delhi Dynamos is that they are like us. They have a very youthful squad. This shows that Indian football is developing. You have Sandesh as a captain at 25. A few years ago, you had captains at 29 or so. " 
"I think Delhi have a pretty young side with their oldest player being 31,32 or 34? Sometimes you need to be careful not to overdo anything. But I think adding young guns is always a good thing. They have tremendous hunger and it's something we look for during our recruitment"