Indian Super League
ISL 2018-19: Chennaiyin FC's John Gregory - The goal was offside by couple of metres
Sooraj Kamath in Bengaluru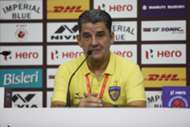 Defending Indian Super League (ISL) champions Chennaiyin kicked off their season on a disappointing note as they went down 0-1 against South Indian rivals Bengaluru FC.
Miku's first half strike was enough to seal a crucial win for the Blues against the reigning champions.
Speaking on what went wrong for his side, John Gregory opined. "To be honest, we gave the ball away for the goal, which obviously I got upset about. We were a little bit sloppy in that respect. The last person you want the ball to go to is Miku. He didn't try to be clever and smashed it in. That's the only thing that separated us from them.
"But then I felt we should have been ahead by then. When you come to places like this you always have to try and contain. I thought we did that really well for the first 20 or 25 minutes. They didn't really threaten our goal during that time. But it's the first match of the season, things are so different."
Jeje Lalpekhlua squandered two easy chances in the first half which somewhat cost Chennaiyin the match on the night.
On Jeje's performance, the English coach said, "The way Bengaluru set up against us, with Erik (Paartalu) the way he looked after Raphael (Augusto), he obviously had to go deeper to receive the ball. Isaac (Vanmalsawma) is new in that role.
"So that's maybe something we can look at. When we got Carlos (Salom) in the second half, it made a little bit easier for Jeje (Lalpekhlua). But still, we didn't create as many chances in the second half. Bengaluru literally had one chance in the first half and they scored. Yes, Jeje became isolated at times and I need to address that."
Even though Chennaiyin lost the first match of their title-defence, they dominated proceedings in Bengaluru and could have emerged victorious had they been a little more prolific in the attacking third.
Speaking on the positives from this game, Gregory suggested, "We should not let our heads drop even though we conceded just five minutes before half-time. I thought the goal was offside by a couple of metres. But Miku just reacted quickly to a loose ball. We have lots of things to look at, need to make little adjustments.
"We came here last season on March 17th and we were still perfect. It was the last match of the season. So there's a lot of things to improve. I thought we could have come back. There were a lot of attacks in the last 20 minutes and Bengaluru sat back and defended. We have a lot of positives and a good foundation to build on."