Pune City v Chennaiyin
ISL 2018-19: John Gregory - Chennaiyin FC have had an embarrassing season so far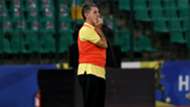 John Gregory is certainly not happy with Chennaiyin FC unable to register a single win this season but is positive about a new chapter starting Tuesday when they take on FC Pune City.
"We didn't win and we will try and look at changes we can do to win our next game which is tomorrow (Tuesday) night. I've got 25 fit players and none of them are carrying any suspensions. If I need to make any changes, we have many players to choose from," said the 2017-18 Indian Super League (ISL) winning coach.
Gregory has played down Chennaiyin's unbeaten record against FC Pune City while admitted to feeling awkward to be placed at the bottom of the standings.
"It's nice to know that we have a good record against Pune but that will have no influence on tomorrow's game. We will have to go out there and try to win the game. In the past we have faced teams who we have never beaten in the ISL but we've gone and put that record to bed. So I'm sure that Pune will be going all out, trying to beat that hoodoo.
"We have had an embarrassing season so far, with just one point in six games. We can't just rely on history but go and get the win ourselves tomorrow. Talking here won't make any difference; we need to do the talking on the field tomorrow. Tomorrow night I will be choosing players who have the hunger, and desire to get all three points," he stated.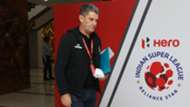 Chennaiyin FC were one of the best teams last season but are conceding goals for fun now and the former Aston Villa manager believes that individual mistakes have cost the team dearly.
"Last season we fought hard and didn't make mistakes. We were defensive strong and kept eight clean sheets in the regular season. Scoring against us was something you had to earn last season but this season we have not been good in that department. I'm expecting that to change starting tomorrow.
"We like to think of ourselves as a hardworking team. You don't enjoy playing against us. Last season we often scored goals in the later parts of the game because we were physically fit. These goals usually fetched us a draw or a win in the last ten minutes, which made us a hard team to play against," he reflected.