Indian Super League
ISL 2017: Jamshedpur don't go into games with a defensive mindset, says Steve Coppell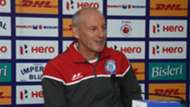 After a mini Christmas break, Indian Super League (ISL) action resumes on Thursday as Jamshedpur FC host league leaders Chennaiyin FC at the JRD Sports Complex, Jamshedpur.
The hosts are placed sixth in the league table with nine points from six matches. The away side have 13 points under their belt from seven games.
Ahead of their crucial match against the South Indian side, Jamshedpur coach Steve Coppell remained cautious. Speaking highly of his next opponents, Coppell said, "After seven matches, Chennaiyin are at the top. They are the best team so far. They lost the first game but they played well in the second half of that game. They are at the top of the table not by accident but they are at the top because they have quality players and are playing well."
Jamshedpur have scored just three goals in six matches and have earned a reputation for being a defensive side. On asked if his side will change gears against Chennaiyin, Coppell said, "I am not sure if it's a question of shifting gears. We have been competitive. We are playing well. Every game is a different battle, different challenge. You have to respect the opposition. I look at each game individually. That's the way I work."
"Not scoring too many goals is an issue. We are working hard and trying to score more goals. Also, we haven't conceded many so far, so that is a positive."
"We don't go into games in a defensive mindset. So far we have done well. We are playing against a good side. We are aware that we are the home team. We know we have to play well."
The Jamshedpur pitch was heavily criticised after the team's first home match against ATK. When asked about the current condition of the ground, the gaffer replied, "The pitch is improving. During the first game, it was terrible. There have been changes in the turf. It will be a better and firm pitch tomorrow."