Indian Super League
ISL 2017: John Gregory - It will be a very tough game against Jamshedpur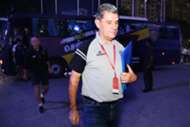 Chennaiyin FC head coach John Gregory heaped praise on Englishman Steve Coppell ahead of their crucial away fixture against Jamshedpur FC on Thursday.
Gregory's side are top of the table with 13 points from seven matches. But the British coach knows how tough it will be for his side to play against a strong defensive unit like Jamshedpur FC.
Speaking on his opponents, Gregory said, "I know that Steve's team will be very hard working. His players always work very hard. If you don't work hard you don't play in his team. We have seen the team on TV several times this season. Every single player works very hard. When you play against them you have to be very good. All my players know exactly the kind of game they will play. It will be a tough game. They don't concede many goals. Not scored many goals either, but the fact that their defence is very good, it will be a tight game."
The Chennaiyin boss was asked if he had experience of working with Steve Coppell previously, to which Gregory replied, "I have played against him back in the late '70s. He is a very humble person and an outstanding player. We have never faced each other as a coach. He did a fine job with Kerala and now Jamshedpur are playing well under him."
Gregory confirmed a clean bill of health for his squad. "Everybody is fit to play. There are no injury concerns on my side."
On the Jamshedpur ground, the away boss quipped, "I saw it on TV when they played against ATK. It looked horrendous. When the pitch is bad it limits the quality of the game. But now it's firm it looks good. Steve, I am sure will be happy now with the pitch."
The coach was asked if the fans can expect an English style of football from both the sides on Thursday, to which he replied, "You have a chance as both are English coaches."