Indian Super League
ISL 2017- Steve Coppell: I would have preferred to not play in Delhi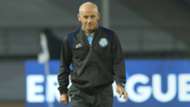 Indian Super League (ISL) debutants Jamshedpur FC tasted victory for the first time in the tournament on Wednesday by defeating Delhi Dynamos 1-0 at the Jawaharlal Nehru Stadium, Delhi.
After the victory, coach Steve Coppell claimed that his side deserved the result and stated that his side succeeded in nuetralising Delhi Dynamos in the game. ''I thought we played well tonight and had some good opportunities. We didn't give much away which was very pleasing. I would like to think it was deserved,'' he commented.
Although Coppell's army bagged the victory in the capital city, the Men of Steel could have registered more than just one goal, having spurned plenty of chances and a penalty.
The 62-year-old manager said, "A win is a win. The zero (clean-sheet) is a big compliment. For us to get four zeroes (clean sheets) is a big thing. It's not just the defence. We start defending from the front. When we don't have the ball, everyone works hard. At the end of the season, we want to be able to say that everyone worked hard.''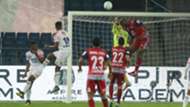 Delhi has been in news lately for the unhealthy climatic conditions owing to the smog in the air. Earlier this week, team members of the Sri Lankan Cricket team were spotted wearing masks during the Test series at the Feroz Shah Kotla Ground in Delhi.
When asked if the weather has affected Jamshedpur FC as well, he replied, ''I don't think it's for a sportsman to answer but if you do want my opinion, I would have preferred not to play. I have been coming to Delhi for three years now and every year this is in the paper this time of the year. I'm not a politician but the only way something can happen is if everyone gets together.''
Finally, the former Manchester United winger explained the reason for Sameehg Doutie's absence in the playing XI. The coach explained that the former ATK dangerman has been carrying a niggle.
''He has had a few fitness issues with his kicking muscles but it was just a choice for the game. I've got interchangeable players. I'd like to think if one player drops out, another can come in. Siddharth (Singh) can play on the right and (Bikash) Jairu is an India international so it's not like we were making detrimental changes. I have a squad which is reasonably balanced so there is an opportunity for fresh faces to come in,'' expressed Coppell, signing off.