Indian Super League
ISL 2017: FC Goa's Sergio Lobera - We look to open up play and take risks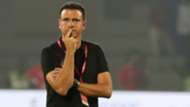 FC Goa produced a brilliant display of attacking football on Saturday evening as they handed out a thrashing to Kerala Blasters. Such was their dominance, especially in the second half that they could have made the 5-2 score-line look a lot worse.
Coach Sergio Lobera was asked about the team's chances to clinch their maiden Indian Super League (ISL) title to which he said, "My next aim is (the game against) Delhi (Dynamos). I'm not looking too far ahead as we could lose our focus. Having said that I don't want the excitement from the fans to die down. We need to keep our feet on the ground and ensure we keep working hard."
Kerala Blasters had scored just a single goal in over 270 minutes of football on home soil. Against FC Goa, they took less than 45 minutes to pump in two and also have chances to score a couple more.
"We have scored 13 goals which shows a lot of attacking potency. But yes, defence is obviously something that we need to work on. When I say defence, I'm talking about the entire team. We are a team who looks to open up play and takes risks. So this is something that is likely to happen," he acknowledged.
Skipper Laxmikant Kattimani continues to disappoint with his performances under the bar as he made silly errors which allowed Kerala to pose a threat.
"When the team is not doing well defensively, the first one to take responsibility to take the responsibility is that of the coach. We have to try and improve from the mistakes we have made so far and work together collectively," said a defiant Lobera.
The likes of Manuel Lanzarote, Edu Bedia and Ahmed Jahouh showed some brilliance piece of skill in midfield. Lobera affirmed that it isn't just the attacking players who help win a game but it's a case of every player doing their assigned tasks.
"Sometimes the striker or the first 11 get all the praise. That is how it is in the world of football. The game was played out in difference aspects and not only the attack. So ultimately it's the collective effort that gets you the result," he explained.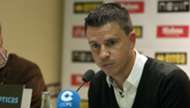 The likes of Sergio Juste and Adrian Colunga, who is recovering from an injury, haven't yet seen any game time and Lobera was questioned as to when he plans on given them a chance.
"There are still a lot of players whose quality we haven't seen so far. With the team working well, we need to take positive advantage of that and not linger around too much. As a coach, it is my job to ensure that all the players keep up to their maximum level and perform to their best whenever they are required," he replied.
With Dimitar Berbatov pulling a muscle in his calf inside the opening five minutes and being substituted, Kerala Blasters' plans for the game suffered big time.
"We don't prepare a game looking at one particular player. The player (Berbatov) was injured but it didn't change our mentality as we still needed to work according to our philosophy. We knew what we wanted to do regardless of whom we were facing."
The second goal scored by FC Goa was thanks to a poor goal-kick by Paul Rachubka which went straight at the feet of Ferran Corominas, who in turn squared for Lanzarote  to do the needful.
"In this goal, we had more of a direct interference in terms of what we wanted to do. Against Bengaluru too, we scored a goal from a play that we actually practiced. Today as well, we told the players to let them play a little bit because then there is going to be an error that will come our way. When Lanza got the ball from an error it worked exactly how we wanted the goal to happen," signed off the Spanish coach.