Indian Super League
ISL 2017: FC Goa's Sergio Lobera - 'To play for a draw will be a lack of faith in myself and my team'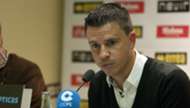 A draw is not on the minds of FC Goa head coach Sergio Lobera as they prepare to cross swords with Chennaiyin FC on Sunday in what will be their first match of the 2017 Indian Super League season. 
During a media interaction in Chennai, Lobera categorically denied the fact that his team would be happy with a point, given that it was an away game for them. 
"Never in a game where there are three points available, would I say we want a draw! To say so would be a lack of faith in myself and my team. When there is an opportunity to get the maximum points, one must go for it," he stated. 
"There might be circumstances during a game which dictate your approach but never before a game would we aim for anything less than a win."
The Spaniard went on to state that he was very happy with the way the team has developed over the pre-season and are now raring to go. "I think we had a good pre-season in Spain. (I'm) very happy," he asserted. "We've advanced very well with respect to how we wanted the team to develop.
"I'm very excited for the first game. We're raring to go. Of course, we are not at 100 per cent as teams develop over the season and we're also at the same stage."
Lobera did admit that FC Goa are missing their Spanish striker Adrian Colunga who is not fit yet. "(Adrian) Colunga was not 100 per cent fit. So we decided to leave him out of the matchday squad. Rest of the squad are fit and are excited to start the season. We're looking forward to it," he said.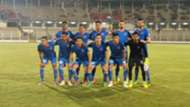 The 40-year-old coach expressed his happiness with the composition of his squad, which consists of six Spaniards and is expected to fit in with his possession-based style of play. 
"We have tried to bring in players who fit in my style of play and my philosphy. But it's important for the coach to adapt to the players also. Thankfullly, we have players who fit the style we want to play. 
"We have six Spanish players, yes. But I haven't trained any of them. Only player I have trained is (Ahme) Jahouh who is Moroccan. We did a  lot of good work behid the scenes and I'm very happy with the level of the Indian players as well." 
Lobera went on to explain his philosophy a bit but emphasized the fact that results are also important to him, which might see him adopt a different philosophy according to opponents and situations. 
"When the fans come to watch football, we want them to go back happy at having watched 90 minutes of football rather than being happy just at the final whistle. Of course, we care about the result but we also want to take the initiative always.
"(At times) you do change your approach according to the opposition," he insisted. 
When it was put to Lobera that Chennaiyin FC head coach John Gregory had stated that he had a rough idea of what FC Goa's line-up would be, the Spanish coach quipped that he himself did not know it yet. 
"I don't know my first eleven yet! We've had players who have been working very hard through pre-season. It is tough to say this is my playing eleven. We'll take that decision after the final training session.
"This being the first match, it is difficult to assess the oposition. Nobody has seen them play. We are only focusing on our team rather than opposition teams," Lobera concluded.