Indian Super League
ISL 2017: FC Goa's Coro - The chances came one after the other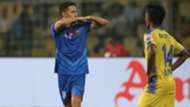 FC Goa's Ferran Corominas, commonly known as Coro, scored the fastest ever hat-trick in the history of the Indian Super League (ISL) as it took him nine minutes to score three goals.
Kerala Blasters' defence comprising of Sandesh Jhingan and Nemanja Lakic-Pesic was at sixes and sevens in their attempts to keep Coro at bay.
Two of his three goals saw the striker power his way between the two centre-backs with ease. So much so that the two central defenders were made to look rank amateurs who probably forgot that they can put in a tackle.
"The chances came one after the other. My aim was to take advantage of the ones that were coming my way and thankfully they all went in. It's not only the fastest hat-trick in the ISL but also the fastest in my career. Obviously, (I am) very happy to have scored the goals and contribute to the team's win. I'm also very happy that the fans enjoyed themselves," said the 34-year-old.
However, the Elche striker suffered a knock when scoring the third goal and he shrugged off suggestions of an injury.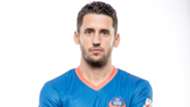 "There shouldn't be any worry. It was just a small clash with the goalkeeper (Paul Rachubka) when I scored the goal. It should be nothing big," he mentioned.
FC Goa next face Delhi Dynamos on the 16th of this month in the national capital.