Indian Super League
ISL 2017: Chennaiyin FC head coach John Gregory knows what to expect from FC Goa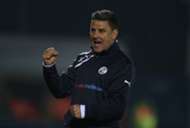 As Chennaiyin FC gear up for their Indian Super League (ISL) season four opener against old foes FC Goa, head coach John Gregory feels suitably prepared after having obtained a clear idea of what their opponents on Sunday have to offer. 
Interacting with the media, the Englishman felt that he had a fair idea of how his opposite number Sergio Lobera will put out the FC Goa XI. "I've met Sergio and he's got his idea on how he wants the team to play," said Gregory. "We can expect him to play in a Spanish style, keeping possession of the ball and pressing high. 
"We do have a rough idea of what their starting lineup will be. Not exactly, but we know the 13 or 14 players from which the starting XI will be picked. My boys know their collective and individual strengths and weaknesses.
"You can point that out but when they get on the pitch, there's not much you can do. The players have to execute. What we can do is spend more time on the training ground and make sure everybody knows their roles." 
The 63-year-old also confirmed that Chennaiyin FC are not beseeched with injury worries other than 21-year-old Germanpreet Singh, who picked up a knock while on India duty earlier this week. But the Punjabi midfielder is expected to be fit for the second game of the season against NorthEast United FC.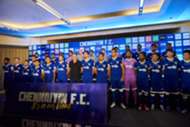 "We're in pretty good shape to be fair. We have 25 players in the squad. Unfortunately, for three weeks, we lost our international players - the four boys (Jeje Lalpekhlua, Germanpreet Singh, Jerry Lalrinzuala & Anirudh Thapa) who've been away with the national team. That has disrupted our style," shared the coach. 
"We've not had a full squad to pick from in the pre-season game. They (players in the national squad) came back only on Wednesday. Germanpreet has a knock and it is a nightmare as a club coach when a player gets injured during internationals. He might not start tomorrow. Everyone else is in good condition."
Gregory also felt that he might need to manage the workload of the four players in question, throwing a question mark over whether they will start on Sunday. 
"It will be interesting to see how the national team boys fare. They've been playing at a high intensity while the others not so much. We need to pay more attention to them and look after them. They've not had much of a rest. We've got a long season and fortunately, India don't play until next March. That's a blessing in many ways," he assessed.  
When asked if starting with a win at home was very important, the former Aston Villa manager stated that while home form was important, it was a team's performance in away games which will determine their season. 
"You're expected to win the home games but the best teams win away from home. That's where titles are won. If you can pick up points on the road, you've got a chance of winning (the league)," he stated before adding, "(For tomorrow) we'll take a pragmatic approach. It is a long season and you have to keep focused."
"If you take the game yesterday (between Kerala Blasters and ATK which finished 0-0), both coaches were happy to get a point. We saw Kerala (Blasters) reach the final despite a poor start last year. We just need to take every game on merit.
"But we want to win tomorrow for our fans who stood by us last season despite the poor run of results. We know it will be a great atmosphere tomorrow with the fans thronging in numbers and we want to reward them."
However, Chennaiyin FC have not had a chance to train at the new pitch on the Jawaharlal Nehru stadium yet but Gregory was visibly pleased by the state of the surface at the venue. 
"If it's your home stadium, you should be able to train whenever you want to. In Europe, there are just no restrictions on your home ground. That gives you an opportunity to train and get a feel of the pitch," he quipped.
"We came to Chennai only on Wednesday and were surprised to see the surface. It's in great condition. The guys have worked hard and my players saw it and were excited though they haven't played on it. It looks beautiful and firm. There'll be no excuses tomorrow," he concluded.