Indian Super League
ISL 2017-18: 'A process that went nowhere' - Rene Meulensteen's Kerala Blasters stint ends dismally
Ashwin Muralidharan (@AshwinMNair10)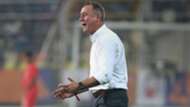 When Rene Meulensteen, a former assistant coach at Manchester United under the legendary Sir Alex Ferguson, was announced as the manager of Kerala Blasters, the fans heralded him as the man to bring home the elusive title at last to the shores of the Arabian Sea. 
The Dutchman had a tough start to the season, struggling to three consecutive draws, of which two were goalless. But the excitement and hope among the fan base was never dampened, given that the Tuskers had started slow in the previous seasons as well. 
Meulensteen was also quick to point out that his team was a work in progress and that they will get only better with time, despite struggling to create chances in attack while remaining solid defensively. 
However, his solace in the team's defence was ripped apart by a rampant FC Goa team in Goa who put five past the Blasters which invited more pressure on Rene who had an expectant fanbase watching on.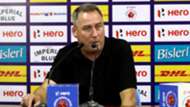 "First of all, I reassure the players that we are in an ongoing process as far as the team is developing. If you look at our progress putting FC Goa aside, we are getting positive going forward. We are creating chances and hopefully can continue to score goals," he said during one of the media interactions after the FC Goa game. 
Though Kerala won their first game, thanks to a fortuitous 1-0 result over NorthEast United, an insipid 1-1 draw against Chennaiyin FC and a 1-3 loss to South Indian rivals Bengaluru FC meant Rene's 'process' was put to an end prematurely. 
And it was not without reason. The warning signs were there for all to see. 
The team had absolutely no plan in attack and were mired in mediocrity all over the pitch - something one wouldn't expect after signing the likes of Wes Brown, Dimitar Berbatov and Iain Hume. The midfield was non-existent which allowed opponents to control the games against Blasters with ease while the defence crumbled when put under pressure in the recent games. So much so that Rene had Berbatov and Brown play in midfield - which begs the question why he did not insist on the team signing a proper midfielder. 
The team management's poor planning and strategies also need to be highlighted as one of the reasons for the mess the 'Men in Yellow' find themselves in. 
The 53-year-old had no plan A in attack, let alone a plan B. All Blasters did was to defend and hope a chance fell to them fortuitously in attack. There was no concerted 'off-the-ball' movement in attack, which meant opposition teams could easily defend against them. In cases where the Blasters fell behind by a goal, Rene had no answers as to how to pull a goal back. There was no visible change in tactics or urgency in such cases.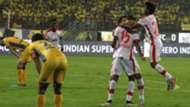 There was not even a proper attacking substitution to effect. When Bengaluru FC went a goal ahead in Kochi, Meulensteen threw on a young Loken Meetei and Milan Singh who is a holding midfielder! 
Rene has done no favours to himself and his latest stint as a manager has mirrored that of his earlier ones at Fulham and Maccabi Haifa. He lasted three months at Fulham while his stint in Israel ended after six months. 
Once again, the team management needs to be put under the scanner for going for reputation rather than performances. Steve Coppell, who led the Blasters to the final last season, was close to being retained and had even travelled to India during the Federation Cup. But indecision from the Kerala team meant Coppell went to Jamshedpur and the Blasters have been left to rue their choice of manager. 
What's notable here is that while Coppell's Blasters were defensive, he always had a plan in attack and had turned around many games last season with his substitutions. So much for tactical nous! 
Coppell's team was almost unbeatable at Kochi, winning six in eight games during the season. Meulensteen's Blasters, on the other hand, have won just one in five games at home.
As of now, the Blasters fans will be dreading a repeat of the 2015 ISL season where they ended up with the wooden spoon while Rene Meulensteen's CV gets a dent.