Indian Super League
ISL 2017-18: Delhi Dynamos' Miguel Angel Portugal pleased with 'great win' over Mumbai City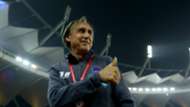 Delhi Dynamos head coach Miguel Angel Portugal was pleased with his side's performance in the 5-1 thrashing of Mumbai City that ruled them out of the Indian Super League playoffs. 
The late second-half flurry of goals tore Mumbai City part as they searched for a desperate win but Portugal's men punished the visitors to come away with full points. 
"Of course, I am very happy because we played extremely well and scored so many goals. It was a great win for everybody, including the fans, so I am very very happy today," said Portugal.
Delhi Dynamos had nothing to lose since they already crashed out of the race for the playoffs but Portugal believes the recent wins aren't because they have nothing to lose from the fixtures. 
"I think we played well in the first half of the tournament as well but did not have luck on our side. But now finally, as I said last time too, the luck has started going in our direction. Today also you saw at 1-1, they hit the post and then we went on to win the match. Previously the ball would hit the post and bounce in, now it bounces out.
But most importantly, we are playing very well. Especially with our midfielders releasing our wingers who in turn have provided some excellent crosses. I am really happy with the way we are playing."
Although the Spaniard refused to confirm that he will be with the team next season, he spoke positively about the future of Delhi Dynamos involving a tie-up with Aspire Academy for the development of young footballers.
"Building a team for the future is our goal with the tie-up with the Aspire Academy. That partnership aims to develop our young players for the future. You are now seeing Chhangte, Vinit, Nandhakumar do so well. This is all our vision for the future. That is the aim of this football club and that is what we are building."