India U16
India U-17 0-0 Serbia U-17 - Indian Colts restrict The Eagles to a goalless draw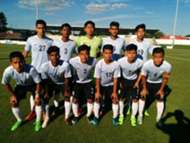 The young guns of the Indian contingent locked horns with the U-17 side of Serbia at Kaposvar, Hungary on Wednesday. The team comprising previous goal-scorers Komal, Naorem, Aniket and others battled The Eagles in a 0-0 result.
India U-17 starting XI today - Dheeraj (GK), Boris, Anwar, Stalin, Namit, Suresh, Amarjit, Komal, Aniket, Sarkar, Naorem #ColtsInEurope

— Indian Football Team (@IndianFootball) June 7, 2017
The match had a dire start as the two teams failed to convert their chances. The initial moments of the tie witnessed the Indian side being dominated by the Serbian kids as they operated well inside the box. Later, The Colts failed to capitalize from a set-piece situation which was followed by a missed attempt by their Serbian opposition whose effort on the goal went too wide. 
The same tale continued until the end of the first half as the two sides cancelled out each other with no clear chances. The half-time score-line read 0-0.
Also read: AFC wants AIFF to decide long-term plan by October end
The second half was an action filled 45 minutes as Luis Norton's lads were tested by the Serbians in the defensive department. Within a span of four minutes, the Indian cubs first headed away The Eagles' attempt from a free-kick and later the danger from a corner-kick was punched away by Indian goalkeeper Dheeraj. This carried for the next ten minutes too as Anwar Ali of India's backline put up a rock solid performance hereby denying the opposition any chance on the target.
During the final quarter of the game, the Colts succeeded in maintaining the clean sheet and eventually restricted the Serbian side to a goalless draw.