India
India coach Stephen Constantine hopes Indian fans will support his autobiography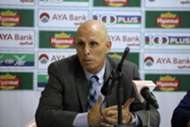 There has been a lot of talk around India coach Stephen Constantine's 'soon-to-be-released' autobiography, with the British coach overseeing a glittering phase in Indian football with the national team breaking into the top 100 in FIFA rankings among a revamp in domestic football structure. 
The book is titled 'From Delhi to Den' and is scheduled to be released very soon. The 54-year-old explained to Goal that the book was all about the struggles he experienced before reaching this phase in his career. 
Constantine: 'There is talent in India. All we need to do is find them"
"It's a biography of how I started in life. It's just not about football and it is about the struggle in my life. How I reached here as India's coach now. I've coached five different national teams and India twice. There has been a great deal of hardship in between and Owen Amos, the guy who wrote the book with me, wanted me to pen this down," he elaborated. 
The former Sudan and Rwanda boss also said that the Amos and him have been trying to get this published for quite a few years now. "For three years, he (Amos) has been looking for somebody to publish it. The book gives a honest opinion on how I reached here," he added.  
The Englishman went on to reveal the motivation behind writing the book, hoping that the readers would find it to be a worthwhile book. "We write autobiographies to have it on record what you've done in your life. I've been very lucky to be involved in football and very lucky to be in this position," he said. 
"But I've worked hard for this and I hope someone who reads this book, after they put it down, will think 'How did he do that?' and I hope it's a good read," Constantine added. "There's two chapters on India and I would like to think that Indian fans would support the book." 
Further, he went on to state that the fans who order the book early have an advantage - "If anybody orders it before the end of July, they get free delivery from the publishers. I think that shows that the publishers believe in the book." 
The official launch date is 25 July but the key thing to mention is the FREE WORLDWIDE DELIVERY throughout July on orders from decoubertin.co.uk.