'If you love football, you love to watch Messi' - Wenger delighted Barcelona star will grace World Cup
Arsenal manager Arsene Wenger says "if you love football, you love to watch Lionel Messi", with the Barcelona superstar heading to next summer's World Cup.
It appeared at one stage as though the 2018 showpiece in Russia would take place without an all-time great taking to the field.
Messi, though, ended Argentina's qualification campaign at his talismanic best, with a timely hat-trick against Ecuador carrying the 2014 runners-up through.
Wenger is delighted for the five-time Ballon d'Or winner, with South America once again proving to be the toughest of sections to progress from.
The Gunners boss told Arsenal Player: "I'm personally very happy [to see Messi go to the World Cup].
"If you love football, you love to watch Messi. If you love football, you love Argentina as well.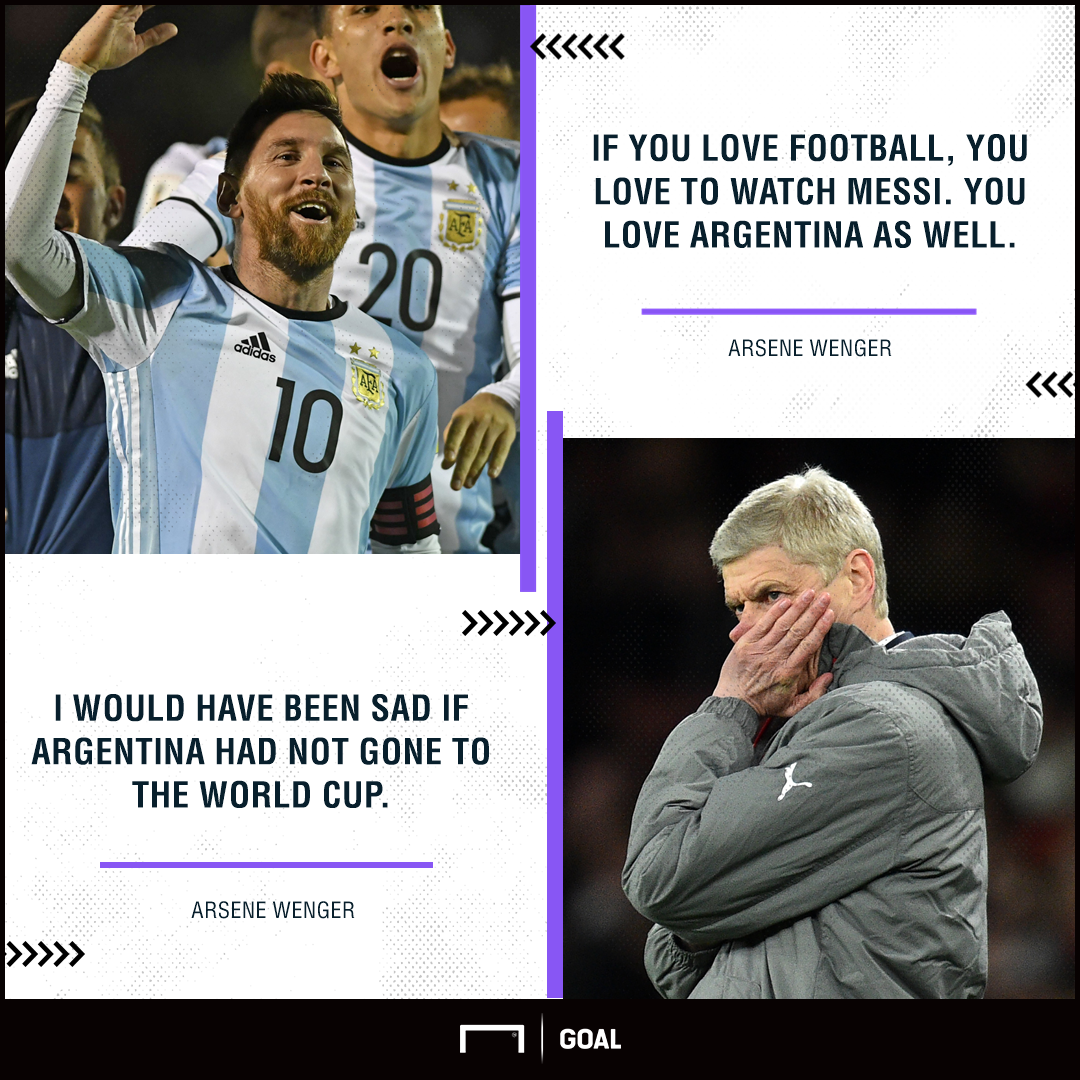 "They always have top-class offensive players and they are spoilt for talent. Overall, I would say that I would have been sad if Argentina had not gone to the World Cup.
"We're a bit spoiled in Europe because we have 13 positions to go to the World Cup. We play against smaller teams in little groups, so the danger is not too big, other than Holland's group, which was quite strong. You had France in there and Sweden in there too so it was quite tough, but most of the qualifying groups are not very difficult. 
"In South America, you have 10 teams and only four go straight through. Team five has to go through the play-offs, so it looks much more difficult to me. 
"You never beat a South American team easily either. It's tough for everybody everywhere to go to Bolivia, Colombia, Paraguay, Brazil or Chile. 
"You have an array of difficult games. That's certainly the most difficult place to qualify."
While Messi will be on World Cup duty at the end of the current campaign, Alexis Sanchez will be taking the summer off.
The Arsenal contract rebel could only help Copa America holders Chile to a sixth-place finish in qualifying, with Wenger an interested spectator as a testing campaign came to an unfortunate close.
He added: "They [Chile] are brilliant going forward.
"They have Arturo Vidal and Alexis who are the two leaders in the group. 
"Watching them, they've suffered a little bit recently from conceding too many goals. I watched their final qualifier because I wanted to know what happened to them, and also to see how Alexis was treated in the game and how he finished the game. 
"I must say that it was a very, very tough, competitive game with an unbelievable number of fouls in the game. It was a really tough game and that shows you that, in Brazil, even though they have qualified, there is no present in there."