World Cup
I'd be surprised if England don't reach the quarter-finals, says Jenas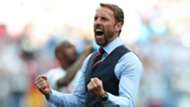 Jermaine Jenas thinks England can reach the latter stages of the World Cup and would be "disappointed" if Gareth Southgate's side fail to reach the quarter-finals at a minimum.
The Three Lions failed to get out of the group stage in 2014 and then suffered a shock last-16 exit against Iceland at Euro 2016 but Jenas is confident that the England team has made vast improvements on previous tournaments. 
England have already started positively in Russia, with wins over Tunisia and Panama sealing progression to the knockout rounds, and they face Belgium on Thursday to determine who tops Group G.
"It would be a massive surprise to me if England don't get to the quarter-finals," Jenas told Goal at a BBC media day.
"The team seem to be in a good place, when we play the tough games, we seem to be able to nullify and take the sting out of those teams.
"When you look back at the games against Brazil and Germany, we have faced Germany a few times in recent years and people expected us to get beat by a few more, but we have stood strong. I think Southgate can set up his team in that way, to be defensive as well.
"The only thing that would be disappointing is if we do not at least make the quarter-finals. And anything over that would be a massive success."

Jenas concedes that England are still lacking in quality in several key positions but believes that talent in other places helps to compensate for what Southgate's side don't have.
"England are missing a world-class centre-half, a world-class central midfielder," he added. "I think the ability to control a game in those midfield areas.
"The players we have are a bit more energetic and robust, a bit more combative, rather than the ones that say, 'Okay it is a hot day today, we are keeping the ball and you are going to chase it'.
"But Southgate does have the ability to adapt his formation to help us. I think on the top end of the pitch, nobody is worried, but when you look at the goalkeeper, centre-backs and that midfield area. We have got good players, don't get me wrong, but I would say that they are the areas where we are lacking something.
"The word leader gets battered around every major tournament. We had Terry, we had Rio, we had Paul Ince, Terry Butcher, we have had all the leaders. And, until this day, none of them have lifted the World Cup since Bobby Moore."
The BBC will provide extensive coverage of World Cup 2018 across TV, radio and online from June 14.