Primera División
'I want to help Messi to improve' - Valverde lays out plans in Barca unveiling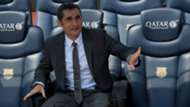 ---
COMMENT
---
It was a smooth start for Ernesto Valverde. The new Barcelona boss admitted that the toughest part of the job may be facing the media, but he made the right noises in his first press presentation as he was unveiled at Camp Nou on Thursday.
Valverde excited about coaching 'unique' Messi
After signing his contract and a photo session at the stadium, the former Athletic Club coach was introduced by Barca's technical secretary Robert Fernandez. A video of his goals as a Barca player (between 1988 and 1990) followed, along with some images of his time as coach.
"Just walking around the museum, I am aware of the demands of this club," he said. "I know the importance of the Barca style and I want to dig deep to see what I can add to that. From [Lionel] Messi to [Andres] Iniesta, passing by all the other players, I want to create a team spirit and to excite our fans."
It sounded good, but Valverde was also serious and measured in his words and after his short speech, the new Barca boss facing a massive 31 questions from the packed press room at Camp Nou.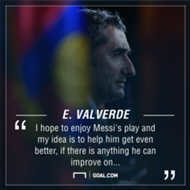 Asked about Messi, he said: "It's a unique experience to be able to coach Messi. He is the best player I have ever seen on a football pitch. I know it seems like he is at his peak, but every day he surprises you and the next day he is even better.
"I hope to enjoy his play and my idea is to help him to get even better, if there is anything to improve on... I want to enjoy the experience of being with him."
The Argentine is out of contract in 2018 and Valverde was asked whether he was worried that the club's star man had still not signed a new deal. "I'm not concerned because all the information I have is that everyone is optimistic," he replied. "I want Leo to be happy here, where he has always been."
Barca & Madrid will meet in Supercopa
Valverde will start the season with two games against Real Madrid in the Spanish Supercopa, while Barca also meet Los Blancos in pre-season in Miami. But he said: "It's a tough start, but even better. We start the season by playing for a trophy and that makes this challenge ahead even greater."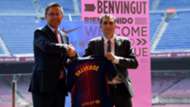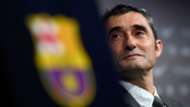 The 53-year-old evaded a controversy-seeking question about Neymar's alleged privileges in the dressing room. "I don't know what Neymar's privileges are," he replied, before Barca's press team cut the journalist off.
Is Valverde good enough for Barca?
In terms of the task in hand, he spoke of how he respects Barca's playing philosophy. "I have to adapt to the style and the play of the club," he said. "I know the style passes by having a great collective game and great handling of the ball in the midfield." But he added: "Barca have a tradition of playing 4-3-3, also 3-4-3 more recently, but I don't consider that so important. Fomations have to be moved, the idea is to have control of the ball."
Valverde described Iniesta as "a very important player", said he will "work closely" with Barca B to see which players can come up to the first team and added that he still has to get to know the squad to identify the needs of the team in order to identify transfer targets with the technical staff.
Overall, his discourse was positive as he also spoke of learning from Johan Cruyff, Pep Guardiola, Luis Enrique and others to create his own management style. But even more importantly than that, he knows just how important it will be to enjoy success. "We are going to try and win as many trophies as we can," he said.
The greatest challenge of his coaching career starts now.