Transfers
'I see your Ronaldo, and raise you Vidal, Nainggolan & Modric!' - Inter's sensational summer market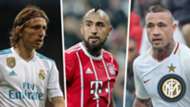 After Cristiano Ronaldo completed his sensational move from Real Madrid to Juventus, the always outspoken Antonio Cassano said what many Italian football fans in Italy were thinking.
"This year," the former Azzurri ace mused, "they may as well hand over the Scudetto trophy before the season even begins!"
Certainly, Juventus will begin the 2018-19 campaign as overwhelming favourites to prevail. 
The Bianconeri have, after all, won the past seven Serie A titles and with a five-time Ballon d'Or winner now set to spearhead their attack, an eight consecutive success appears a formality. 
Or, at least, it did, until this week. 
Ronaldo has undoubtedly made Juve stronger. They now look like a side capable of not only holding their domestic crown, but also winning the Champions League.
However, when Ronaldo arrived in Turin last month, several shrewd judges pointed out that his signing didn't just represent a major boost for the Old Lady, and her hopes of lifting the European Cup for the first time in 22 years, it was also a major positive for Serie as a whole.
The argument went that Juve acquiring the world's most marketable footballer would simultaneously raise the league's profile, making Italy a more attractive destination for world-class players – and no longer just for their holidays.
Luka Modric is now the most intriguing case in point.
Ronaldo's former Real team-mate is presently enjoying a well-deserved break on the beautiful island of Sardinia, after his exploits at the World Cup in Russia earlier this summer.
The Croatia captain will return to Madrid this weekend but there is now the very real possibility that he will be back in Italy in a matter of days, and this time on business.
As the Gazzetta dello Sport reported on Wednesday, Inter are now cautiously optimistic that Modric is poised to tell his employers in Madrid that he would like to move to Milan.
Indeed, despite late interest from Barcelona, the Nerazzurri have even put Arturo Vidal's already-agreed arrival from Bayern Munich on the backburner in order to focus on wrapping up what would be a most unexpected deal for Modric.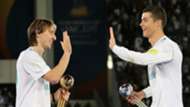 That is not to say that Inter would necessarily ditch the Chilean should the world's best midfielder agree to a San Siro switch.
On the contrary, they believe that both would fit perfectly into a squad that has already been radically revamped since the end of last season.
Radja Nainggolan promptly arrived from Roma, no doubt motivated by the prospect of a reunion with Luciano Spalletti, under whom he produced his best football in the capital, while Stefan de Vrij and Kwadwo Asamoah have both joined on free transfers, from Lazio and Juventus respectively.
Elsewhere, World Cup hero Sime Vrsaljko has been signed from Atletico Madrid, while the attack has been strengthened and rejuvenated by Matteo Politano, on loan from Sassuolo, and young Argentine star Lautaro Martinez.
With all of those shrewd signings in mind, it's easy to understand why former midfield ace Nicola Berti was arguing that Inter could challenge for the title even just by adding Vidal to their ranks.
"With Arturo, we'd be on the same level as Juventus," he told La Tercera on Wednesday. "I can assure you that we'd be fighting for the Scudetto.
"Imagine Vidal and Nainggolan in midfield! They're two great players with great energy."
Throw Modric into the mix too, and Inter would suddenly be in possession of one of the best midfields in Europe.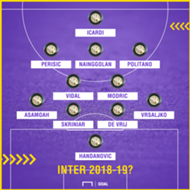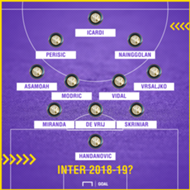 However, one would also be hard pressed to think of a centre-half pairing with more potential than De Vrij and Milan Skriniar, who attracted the attention of the game's elite during a fantastic first season at San Siro.
The addition of Vrsaljko should finally resolve Inter's long-standing issues at right-back, while Asamoah has already shown in pre-season that he will be just as valuable an option in midfield as on the left flank. 
It would be foolish to expect too much, too soon from Martinez and Politano but the 20-year-old Argentine attacker has quickly struck up an excellent rapport with compatriot Mauro Icardi, on and off the field, and the on-loan Sassuolo winger could make for a reliable alternative to the maddeningly inconsistent Antonio Candreva.
All things considered, Spalletti now has something approaching the depth he was publicly craving just a month ago.
Of course, even if both Vidal and Modric arrive, there will be no guarantees that Inter could topple a Ronaldo-led Juventus.
But it would at least ensure that neither Cassano nor anyone would be advocating awarding the Old Lady the title before the season has even begun!