I-League
I-League: Mumbai FC recall Steven Dias, Pratik Chowdhary and Allan Dias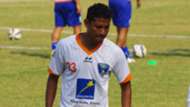 After being put under pressure by the vehement protests by the Mumbai FC faithful, Mumbai FC management responded by recalling Steven Dias, Pratik Chowdhary and Allan Dias to the training session on Monday, Goal can confirm.
Santosh Kashyap responds to Mumbai FC fans' ire: 'I respect it and I clapped for them'
Coach Santosh Kashyap had informed the above mentioned trio to not turn up for training sessions last week as he believed that they weren't required for the rest of the 2017 I-League season.
Interestingly, Mumbai FC fans launched a verbal tirade against Kashyap for his decision to let the famed trio leave the club. In fact they went on to call for the former Mohun Bagan coach to be given the boot with immediate effect.
In a poll conducted by Goal, over 64 per cent fans opined that Kashyap must be sacked by the club management after their winless run extended to nine games following yet another draw in Mumbai.
"Also I have never ever sacked any players, for the three players - again the blame goes to me. I treat my players as kids. I blast at them, I take care of them, I motivate them. I do the same at home with my own kids.
Santosh Kashyap branded a 'snake' by Mumbai FC fans
"(This is) just like how parents are not always wrong, it's the children at fault too, at times. But that doesn't mean you disown the children. You try to improve them by correcting their mistake and bringing them back. But here (at Mumbai FC), I can't say if such can be the case,'' was Kashyap's explanation on why the players were sacked in the first place.
Mumbai FC fans would hope that with the return of the trio, their fortunes change for good as they are in desperate need for points in their fight to avoid relegation.