Gokulam
I-League 2018-19: Gokulam Kerala appoint Satheevan Balan as assistant coach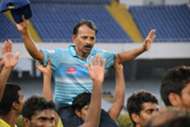 Gokulam Kerala have appointed Satheevan Balan as their assistant coach for the upcoming I-League season.
Balan is a former Indian national team scout and won the Santosh Trophy with Kerala recently. Satheevan is an A-License holder and has worked for Stephen Constantine in the past. He is known for being an animated coach on the sidelines and being adept at getting the best out of his players.
"Gokulam Kerala are an I-League team from Kerala. I want them to perform well and I wanted to be a part of it as a coach," Satheevan shared his thoughts with Goal.
"It was up to the management to decide. They approached me for this season. I'm a government sports council employee, so there were formalities to be completed."
The Malayali coach feels that the management's wish to involve more Keralites at the club was also one of the driving forces behind his appointment.
"The management told me that the Chairman wishes to have a lot of Malayalee coaches and players in the team and to give chances to Kerala footballers. The team also wants to play in the AFC Cup."
At the Malabarians, Satheevan will be working with another experienced campaigner in Bino George. The latter replaced Fernando Valera in pre-season after the foreigner left due to personal reasons.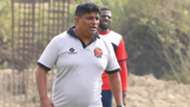 "Bino George has a lot of experience when it comes to club-level coaching. Even though we haven't worked together,  we know each other well.
"He is an AFC Pro License Holder and I'm an A License holder. We'll work with an understanding, our experiences will help the team."
Satheevan feels that the team isn't ready yet to field a first team full of Keralites but had positive words regarding the immediate future.
"The team isn't ready yet to field an all-Keralite starting lineup. There are foreign players in our squad and it'll be a good mix. The performances in the last few rounds last season is encouraging and we need that flow to continue. We need to target the top three spots. It'll depend on the performances.
"Newly promoted teams like Minerva Punjab and NEROCA FC succeeded due to sheer hard work. Similarly, we can also come up. Any team in India has the capability to beat Mohun Bagan and East Bagan, the results only vary due to certain situations. Last season we did it (beat Mohun Bagan). 
"The teams are different this season, we'll know more about the teams after the first few rounds of  matches."
Gokulam Kerala will kick-start their second I-League campaign with a clash against Mohun Bagan at home. Kick-off is at 5 PM at the Corporation Stadium at Kozhikode on Saturday.