Indian Arrows v Shillong Lajong
I-League 2018-19: Floyd Pinto - This win will give us more confidence before playing Mohun Bagan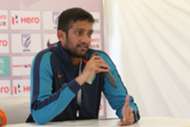 Indian Arrows registered their first win of their I-League campaign riding on an 11th minute Asish Rai strike to overcome Shillong Lajong FC at Cuttack's Barabati stadium on Monday.
After getting battered by Chennai City in the previous match, it was a matured comeback from the All India Football Federation's (AIFF) development side against an all-Indian Lajong side.
Coach Floyd Pinto was jubilant with his team's performance and defined the win as 'morale boosting'.
He said, "To get three points in the first home game is very important for us. It will definitely boost our confidence going into the game against Mohun Bagan. Now we have got something to hold on to.
"We will try to make it even better and play against the challenges.  There are a lot of things we would like to do in the coming week. These boys have been training very well and their confidence has been very high. They have been performing well in training. We stuck to our game plan but everything that we did was sharp. Apart from finishing a few chances, we did well."
Pinto further revealed that it was their game plan to remain solid at the back and play on the counter.
"We will play to our strengths (against Mohun Bagan). We will stick to a plan. Every team has a different game plan. Shillong played a perfect game today and I mentioned it to their coach as well. It is only going to be good for Indian football. We did what we do best which is to stifle teams, get the ball out of them and hit on the counter. We will be doing the same against Mohun Bagan with a few tweaks here and there," said Pinto. 
Rai, who made Lajong pay dearly for a defensive mistake, was happy that his team won their first full points.
"We got three points and that is the most important thing.  I am very happy for my team. It doesn't matter to me whether I score or my team-mates score," said the defender. 
Indian Arrows will next face Mohun Bagan in Cuttack on November 10.