I-League
I-League 2017 - East Bengal's Trevor Morgan - 'Churchill defeat was one of my worst days'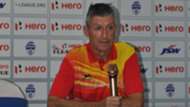 East Bengal fly down to the coromandel coast to pit their wits against I-League new entrants Chennai City FC on Sunday, 12th March 2017, at the Jawaharlal Nehru stadium in the capital of Tamil Nadu. 
After 13 rounds, East Bengal are second on the table, two points behind Aizawl FC and just cannot afford to drop points against the South Indian team. 
Acknowledging that fact in the pre-match press conference, coach Trevor Morgan said, "We need to win tomorrow to remain in the race to win the I-league. If things went our way and we did what we need to do tomorrow, we could again be top of the league. But we are expecting a difficult game. Any team is capable of beating any other team. We found that out first hand in the previous game."
He went on to rue the 2-1 defeat they suffered at home to Churchill Brothers that put a spanner in the works of The Red and Golds. Morgan sounded determined not to repeat those follies again - "We were very poor defensively in the first half against Churchill. We have to make sure it doesn't happen tomorrow. It is difficult to set your team out to win. They (Chennai) will play with one up front and get people behind. We have to be patient and find a way through." 
Aizawl denied by Minerva fightback
He went on to concede that it was a bit hard to recover from the defeat in the last round but hoped that they will be able to set things right on Sunday - "The last game was one of the worst days I've had. The thing with football is, we have to move quickly. The training was a bit subdued on the day after the loss. It was difficult to get over personally. But we have to look forward. What's done is done." 
But the Englishman is boosted by the return of star striker Willis Plaza, who trained on Saturday and is well with a shout of making the matchday squad along with Bikash Jairu. Morgan also felt that the pitch at Jawaharlal Nehru stadium was pretty decent and not as bad as it has been portrayed recently. 
The home team coach Soundararajan sounded upbeat and said he was eagerly anticipating playing East Bengal. "Compared to us, they (East Bengal) are a well organised and better side. So, we are eagerly waiting for a chance to play them. We will draw inspiration from Bengaluru result. It was a morale boost for us and will help us on Sunday." 
Five-star DSK thrash Mumbai FC
The game on Sunday is Chennai City's last home game of the season and Soundararajan revealed that the conducive atmosphere of the Jawaharlal Nehru stadium will be a big miss for them in the coming games. 
"We had a moral support while playing in Chennai. With the relatives and friends of the players coming, it was a conducive environment for us to play football." 
Though the team had been rocked recently by the whole controversy with Haroon Amiri leaving the club after a spat with the coach, the team manager Ingulab Raghunathan said that morale was high despite Amiri's departure. 
Chennai do not have any major injury concerns and they will have to play out of their skins again to deny East Bengal a victory in Chennai on Sunday.