I-League
I-League 2017-18: V Soundararajan wants three points, Bino George aims for mid-table finish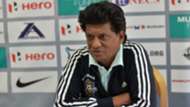 Chennai City head coach V Soundararajan wants nothing less than three points when his side take on Gokulam Kerala in Coimbatore on Friday. 
"Tomorrow's (Saturday) match is very important for us. We don't want to lose the match. We don't want to draw the match. We want to win," stated the coach.
Soundararajan's men are eighth on the table with 9 points and fired blanks in their last two games which ended as goalless draws.
"Tactically, I will be changing the team. We played extremely well in all the matches, the results just did not happen for us. We must have players inside the box. Instead of having more ball possession, I ask my players to get into the area more," said the Chennai City coach.
Gokulam Kerala find themselves at the bottom of the I-League table and are on a five-match losing streak. Coach Bino George is looking forward to trying new things on the pitch in order to get his team back on track.
"We will have a different plan for tomorrow. In all the games, we played really well but conceded sneaky goals," rued George. "We are a new team and the squad is very young. The average age of the group is below 24."
Chennai's foreign players have performed well. Jean-Micheal Joachim is among the top scorers in the league whereas defender Schumeiko has been solid at the back. 
"The team with good foreigners are doing well. Our foreign players got injured. For Chennai also, all foreigners are playing. For us, getting foreigners also was a difficult process," said George, who also went on to confirm that misfiring striker Odafa Okolie won't be part of his plans anymore.
"Odafa has been released from the squad. The paperwork for his replacement is not ready. Once it is ready, we will announce." Club officials confirmed to Goal  that the striker has not been officially released. Okolie is injured and has not travelled to Chennai. The striker is expected to be released soon. 
Lastly, Bino George talked about the need for I-League in Kerala,"We want (at least) a mid-table finish. There is a motivation for football in Kerala. Kerala badly need I-League, it has not been there for the last six-to-seven years."